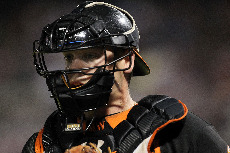 To say there would be no way for
Matt Wieters
to live up to the hype would be an understatement.
Before the 2009 season, he was not only supposed to win the Rookie of the Year, but the MVP and Nobel Peace Prize, as well.
Instead, he's hit .273/.336/.404 as a big leaguer, not bad, but hardly anything near living up to the expectations. Wieters said he's among those with big expectations for himself.
"This year didn't feel like I played quite up to the level I'm capable of," Wieters told
the Baltimore Sun 's Jeff Zrebiec.
"It's something that you can take into the offseason and work out even harder to try to get where you can."
His manager, Buck Showalter, said he likes what he's seen out of his catcher.
"Maybe everyone expects him to be this huge offensive player and this towering presence in the lineup. I don't know about all that. All I know is what I've seen from him when I got here and I am impressed, and I'm not easily impressed," Showalter said. "Keep in mind, he's 24 and he's already pretty good. I'm glad Matt is on our side, I'm glad that he's wearing our uniform. Matt is going to be as good as he's capable of being, and that's a comfortable thought to me and it should be for Oriole fans."
-- C. Trent Rosecrans
For more baseball news, rumors and analysis, follow @cbssportsmlb on Twitter or subscribe to the RSS feed .