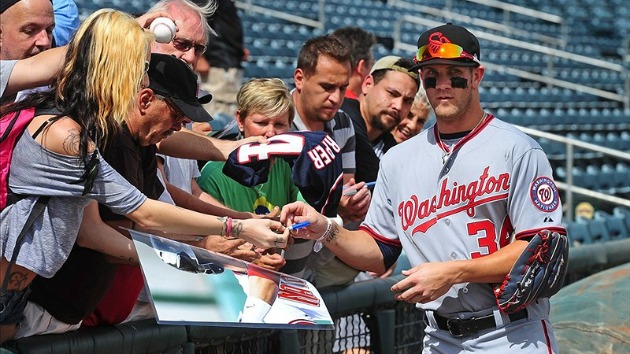 By C. Trent Rosecrans
Bryce Harper
showed up at the
Nationals
' training camp on Tuesday morning and said he's hoping to start the season with the big-league team.
"I'm going to work as hard as I can, keep my mouth shut and play," Harper told reporters,
including Adam Kilgore of the Washington Post
. "I'm going to make their decision hard as much as I can. I want to be up here. I want to play, and I want to play in D.C."
Harper said something similar last season -- even though there was no shot he'd break camp with the team. This year's different. Manager Davey Johnson has asked Rizzo to keep an open mind in the decision about Harper.
Nobody expects Harper to say any less, but the fact he used those words is probably a good sign for Nationals general manager Mike Rizzo who recently said he wanted Harper to mature before bringing him up.
Harper said he's not too worried about the reaction to his Twitter ramblings or the reaction to his aspiration of being a modern-day Joe Namath man-about-town.
"I'm going to get blown up either way, whether I say something right or say something wrong," Harper told Kilgore. "That's just how it's going to be. There's nothing I can really do about that. Maybe there's sometimes I should keep my mouth shut. I need to grow up in that aspect, I guess. But I feel good about what I say, and I'm not going to back down from anything."
For more baseball news, rumors and analysis, follow @EyeOnBaseball on Twitter, subscribe to the RSS feed and "like" us on Facebook.