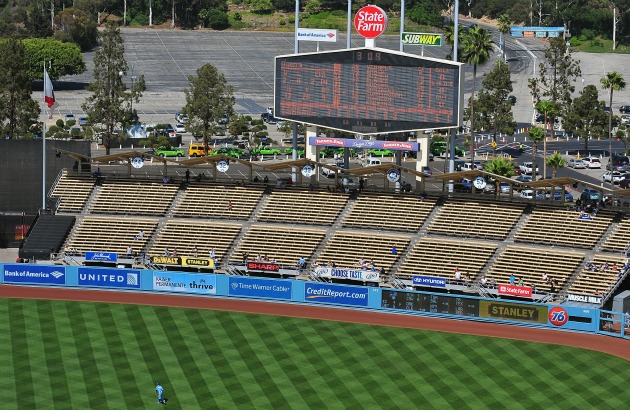 By C. Trent Rosecrans
Los Angeles Times columnist Bill Plaschke went to Wednesday afternoon's Dodgers-Padres game and talked to all six fans in section 314. Six. The announced crowd was 27,767 -- but there were actually fewer than 8,000, Plaschke estimated and may have been the smallest crowd in Dodger Stadium history.
Every time I've been to Dodger Stadium it's been full and rocking -- this tells you as much as you need to know about how LA fans feel about Frank McCourt.
On the market: But the McCourts did sell one of their two homes near the Playboy Mansion, so there's that. It was the smaller of the two houses in Holmby Hills going for "just" $6.14 million. [Los Angeles Times]
Click here: Really nice work by the Detroit News illustrating just how quickly a Justin Verlander fastball gets on a batter. Check it out.
No sympathy: White Sox manager Ozzie Guillen said Twins manager Ron Gardenhire is one of his closest friends in the game, but he's not exactly feeling sorry for him -- "No, because I've seen him celebrating a lot with a lot of champagne over his body when I've watch him [over the years]," he told reporters (MLB.com). "Get them next year, Gardy."
Jays scouting Darvish: Toronto general manager Alex Anthopoulos was in Japan on Wednesday scouting right-hander Yu Darvish. The Rangers and Yankees have also scouted him in person, while the Nationals, Orioles, Red Sox and Rays also have reportedly been interested in Darvish. [Toronto Sun]
Theo happy in Boston: Red Sox general manager Theo Epstein made his first remarks about his name being thrown around in talks about the open Cubs job -- he said he's "really happy to be with the Red Sox." He didn't elaborate much or deny any interest in the Cubs job, but why should he? Leverage is a good thing and there's no reason for Epstein to give that up. [WEEI.com]
Beane leading Cubs' wish list: Cubs owner Tom Ricketts was in San Francisco on Wednesday, while A's general manager Billy Beane was at home in the Bay Area and his team was in Cleveland -- coincidence? [Chicago Sun-Times]
Rooftops expected: For the first time in a decade, all the Wrigley rooftops around the Cubs' home park have been inspected by city health officials. [Chicago Tribune]
Measuring power: An interesting article on FanGraphs.com asking the best way to measure power -- because what exactly are we talking about when we talk about power? It's more than just homers, but shouldn't homers count more? Anyway, the result is a stat called wXB -- or weighted extra bases. However, the problem with this is that are triples really a measure of power? You're not going to find anyone who says Dexter Fowler has more power than David Ortiz, but you wouldn't be surprised to learn Fowler has more triples than Ortiz.
Strasmas returns: Not that it's any surprise, but ticket prices have gone through the roof for the Stephen Strasburg's "Strasurrection" start on Sept. 6. [Washington Post]
Cards want to extend Berkman: The Houston Chronicle's Richard Justice told a St. Louis radio station that the Cardinals approached Lance Berkman about a contract extension in July and the 35-year-old "very much wants to stay" in St. Louis. However, the fact he didn't sign an extension implies Berkman will at least test the free agent waters. [NBC Sports]
Phillies doomed: The Phillies are a favorite for the World Series this season, but enjoy it now, Phillies fans. Grantland.com's Rany Jazayerli writes that the team isn't built for the long haul, as the team is saddled with bloated contracts and aging players. A really interesting read.
Moose is loose: Royals rookie Mike Moustakas has found his groove. After starting his career hitting .182, he's raised his average to .232 with a 14-game hitting streak. [MLB.com]
Movie time for A's: Several A's say they're curious to see Moneyball when it premiers later this month. [Baseball Prospectus]
Bay to center? Could the Mets move Jason Bay to center field in 2012? That's one of the things the team is considering, even though it seems like it would certainly weaken the team's outfield defense. But hey, the guy is owed a ton of money, so he'd have to be put somewhere. The move would also allow Daniel Murphy's bat to get in the lineup in left, with Lucas Duda in right. Of course, Murphy wasn't able to play left in 2009, so I'm not exactly sure why he would be able to now. [New York Daily News]
Pujols teases fan: A good friend of mine can't stand Albert Pujols -- when 60 Minutes did the feature about all his charitable work, my friend wasn't impressed. He once had a to do a story on Pujols, who blew him off. He went back the next day, and Pujols was a jerk to him again. So I'm guessing he'll like this story about Pujols taunting a Brewer fan. [Big League Stew]
Quentin's return uncertain: White Sox outfielder Carlos Quentin is eligible to come off the disabled list on Monday, but he said he's unsure if he'll be ready to play by then. He went on the disabled list for a sprained AC joint in his left shoulder Saturday, but hadn't played since Aug. 20. [Chicago Tribune]
Uehara's option vests: When Rangers reliever Koji Uehara appeared in his 55th game of the season on Wednesday, his $4 million option for 2012 vested. [MLBTradeRumors.com]
More Garfoose: Not to overload you with Dirk Hayhurst stuff, but some might find this interesting -- the recently released pitcher is auctioning off some of his game-used gear for charity. [DirkHayhurst.com]
40th anniversary: On Sept. 1, 1971, the Pittsburgh Pirates became the first team in Major League history to field an all-minority lineup, with Dock Ellis taking the mound. [The Hardball Times]
For more baseball news, rumors and analysis, follow @eyeonbaseball on Twitter or subscribe to the RSS feed.