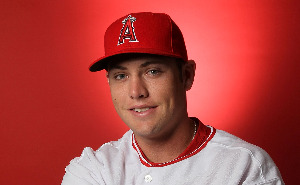 In one fell swoop, the
Angels
drastically upgraded their outfield defense and may have given a team 3-7 in its last 10 starts and eight games behind the
Rangers
a kick in the pants.
Peter Bourjos
, ranked the Angels' No. 2 prospect by
Baseball America
, has hit the big leagues after going on a tear in July after two very poor months. In July, Bourjos put those struggles behind him by hitting .438/.474/.719 in 128 at-bats. The 23-year old also burns up the basepaths, banging out 12 triple -- nearly outpacing his home-run production of 12 round-trippers -- and swiping 27 bags. His defensive reputation has him immediately one of the best center fielders in the major leagues, perhaps in
Franklin Gutierrez
territory.
In 2009, Bourjos "saved" 15 runs in the field for Double-A relative to an average fielder according to TotalZone -- proving his reputation as an outstanding defender. So far in 2010, his number is at 13, which means he probably would have outpaced his 2009's rate had he not been called up.
How impactful can Bourjos and his double-digit runs saved fare in the outfield for L.A.?
Well, incumbent center fielder
Torii Hunter
is still riding on the coattails of his top defensive reputation of years past (he is working on a streak of nine consecutive Gold Gloves), but is no longer elite. He's at -1 runs saved this season in CF.
Bobby Abreu
is at -4 in right field, while
Juan Rivera
checks in at -7 in left.
Hideki Matsui
is primarily the DH but in his time in the outfield, checks in at a flat zero.
That outfield is one of the worst in the majors, which became problematic every time fly-ball pitchers stepped to the mound, including starters
Jered Weaver
and
Ervin Santana
. Bourjos will help rectify that, and there's no question the rookie is up for good. The team wouldn't bump one of its most popular players to a new position, risking displeasure by the player, if Bourjos' assignment was temporary.
UPDATE
: Torii Hunter
tells
the
Los Angeles Times
that moving to right was his decision.
"Sometimes you have to slap pride in the face and all that individual stuff, Gold Gloves ... that's nothing," Hunter said. "All I care about is winning, man. I need a ring. I've been to the playoffs seven times and haven't won anything."
Manager Mike Scioscia preferred that Hunter take over right with Abreu manning left because Hunter is more effective at preventing first-to-third situations. It wasn't easy for Hunter to agree to the switch, however.
"I didn't sleep for about three or four days, just thinking about it, praying about it. ... Center field is my home. That's what I love and anything different after 12 years, you're kind of sad a little bit."
-- Evan Brunell
For more baseball news, rumors and analysis, follow @cbssportsmlb on Twitter.