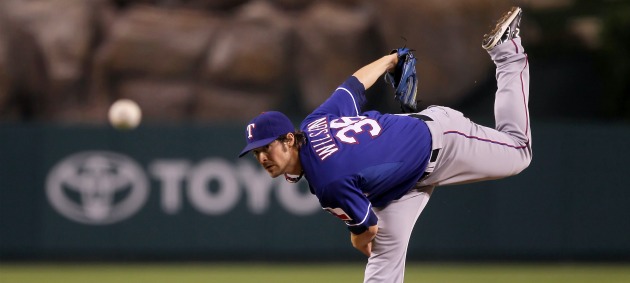 By Evan Brunell
Rays
at
Rangers
: 5:07 p.m. ET, Rangers Ballpark, TBS
LINEUPS


PITCHING MATCHUPS
Wilson vs. Rays
: The left-hander made three starts against the Rays in 2011, throwing up a pristine 2.08 ERA in 21 2/3 innings. Wilson struck out 24 and walked eight -- and two of those starts were back-to-back at the beginning of September, so Wilson and the Rays are quite familiar with each other. Could that added familiarity hurt Wilson?
Perhaps not -- only Kelly Shoppach and Sean Rodriguez have any type of success against Wilson. Matt Joyce does as well, but has just two at-bats against Wilson so it's difficult to derive much from that. (Not as if Shoppach's seven at-bats and Rodriguez's 11 are much more.) No other Rays hitter has an OPS higher than .498 against Wilson in their career.
Moore vs. Rangers
: Moore has never faced the Rangers, as the rookie only has 9 1/3 career innings in the majors. He'll have a tall task on his hand, as Texas crushes lefties. Most of the Rangers' right-handed batters raked left-handers over the coals all season, throwing up a .297/.358/.502 line, paced by Nelson Cruz, Adrian Beltre and Mike Napoli, who all have OPS' greater than 1.000 against left-handed pitchers.
Add in Michael Young, Ian Kinsler and Josh Hamilton, and the Rangers have six players in the lineup who can hammer left-handed pitching. It will be a tall task for Moore going up against that kind of firepower... but then again, he punched out 11
Yankees
in his only 2011 start.


NOTES

Cooper Stone, son of Shannon, will throw out the first pitch prior to Game 1 of the ALDS Friday night. Shannon Stone fell to his death during a game earlier this season trying to catch a ball that Hamilton had tossed him in the stands. "We thought it was very appropriate to have him come out," team president Nolan Ryan told the Ft. Worth Star-Telegram.
Interesting to see Torrealba DHing and Napoli catching, as the defensive reputations of each person is counter to what positions they are assuming for Game 1. Wilson has pitched to Torrealba 21 times and Napoli nine. Wilson actually has an ERA 0.30 lower than when he throws to Torrealba, but batters don't hit as well in the Wilson-Torrealba pairing as they do Wilson-Napoli.
Texas defeated the Rays in last season's division series in five games. The visiting team won every single game, the only time in major-league baseball postseason history that's happened.
For more baseball news, rumors and analysis, follow @EyeonBaseball on Twitter or subscribe to the RSS feed.