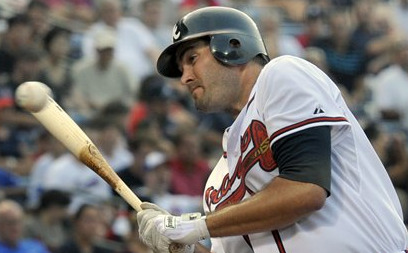 Troy Glaus is getting a breather, and it's a much-deserved one. The slugging first baseman's .244/.356/.409 line with 14 home runs looks terrible, but over his last 28 days has been at a brutal .183/.330/.225.
If you throw out the month of July, Glaus' numbers look far more befitting a first baseman: .261/.366/.460. Those even include the beginnings of his cold stretch after a hot May that gave him NL player of the month honors.
"We'll get him going," manager Bobby Cox told David O'Brien of the Atlanta Journal-Constitution . "It's good for him to sit once in a while. The game becomes a lot easier sitting on the bench."
Eric Hinske is starting in his place, which may be a more regular occurrence for the utilityman. Rick Ankiel is now in the fold, starting full time in center field. That pushes Melky Cabrera and Matt Diaz into a left-field platoon, freezing Hinske out.
The two-time World Series winner, Hinske, has a .271/.342/.486 mark in 210 at-bats, largely playing against right-handers where his .805 OPS outproduces Glaus' total .730 mark. Still, Cox wasn't biting on any idea of a possible platoon.
"I don't know," Cox said. It doesn't matter who Troy hits against, righty, lefty, it doesn't matter. When he's hot, he hits anybody."
The smart money would be on Hinske stealing some at-bats against tough right-handers until Glaus gets healthy. Also, if and when the Braves realize Ankiel can't quite hit left-handers, that may free up some additional at-bats for Hinske, albeit not much.
-- Evan Brunell
For more baseball news, rumors and analysis, follow @cbssportsmlb on Twitter.