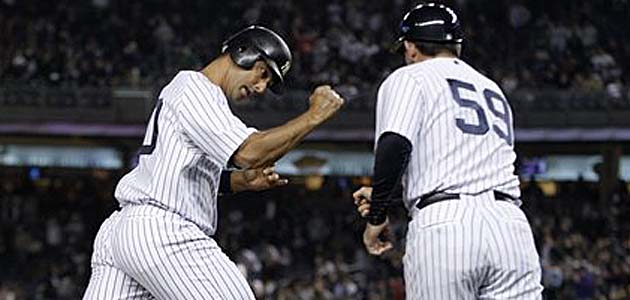 By Matt Snyder
3 UP
Jorge Posada
,
Yankees
. The former catcher seems to be enjoying himself as a designated hitter. He went deep twice Sunday and then hit his third home run of the season in his first at-bat Monday night. That's a two-day total of three home runs and six RBI in eight at-bats. With a slugging percentage of over .800 and his OPS a robust 1.188, he's off to a good start.
Craig Kimbrel
,
Braves
.
Carlos Marmol
's K/9 record set last season might be seriously challenged already. Kimbrel struck out all three batters he faced en route to his second save of the season Monday in Milwaukee. He has only seen six batters all year, retired all six, and struck out five of them. That means that in his young major-league career, he has punched out 45 of the 94 batters he has faced. In just 22 2/3 innings, he's struck out 17.9 hitters per nine innings. Marmol's record last season was 16.0. And if you aren't impressed with the numbers or wanna cry small sample size, watch Kimbrel pitch. His stuff is insane.
Alfonso Soriano
,
Cubs
. He's only collected four hits this season, but all four have been game-changers. He had a game-tying RBI single Saturday, a go-ahead home run late Sunday and two big knocks Monday in a Cubs victory. He tied the game with a solo home run in the third and then later singled in an insurance run. Considering Marmol was coming off a blown save and would be throwing his third straight game -- not to mention his penchant for walks -- the insurance was much needed for comfort. Soriano is the poster-child for Wrigley Field boobirds due to his contract, but if he keeps getting big knocks like this, some of that may go away -- at least temporarily.
3 DOWN
Rick Porcello
,
Tigers
. The youngster is looking for a bounce-back campaign after a huge step-back year in 2010. He didn't get off to a good start Monday. The
Orioles
had little trouble knocking him around the park, as he surrendered nine hits and five earned runs in five innings. A three-run home run by
Brian Roberts
ultimately did Porcello in, but he simply got hit too hard. Four of the nine hits were of the extra-base variety.
Takashi Saito
,
Brewers
. With the Brewers clinging to a one-run lead and looking to avoid a four-game losing streak to start the season, Saito allowed both
Martin Prado
and
Dan Uggla
to take him yard in the eighth. Considering the issues the Brewers have already seen from
John Axford
, this can't feel nice ... even if there are 158 games left on the schedule.
Albert Pujols
,
Cardinals
. Here's a name you won't find here often. Pujols did score a run after drawing his first walk of the season Monday, but he was held hitless for the third time in four games in this young season. He grounded out to third three times Monday and is now 2-16 (.125 average) with a .176 on-base percentage. I will most certainly not be among those doing so, but it's conceivable to see people start questioning if he's distracted by the contract situation if the swoon continues. Mark my words, someone will do it. And then he'll explode with a seven-homer week.
For more baseball news, rumors and analysis, follow @cbssportsmlb on Twitter or subscribe to the RSS feed.