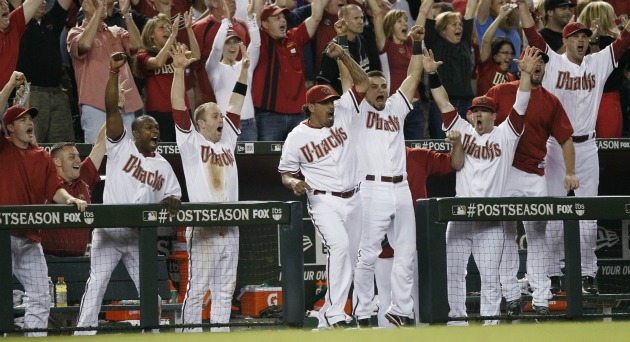 By C. Trent Rosecrans
You'd think Tuesday's thrilling victory over the Brewers in Game 3 of the National League division series would be all the advertising the Diamondbacks would need to sell tickets to Wednesday's Game 4. You'd be wrong.
As late as Wednesday afternoon, the Diamondbacks official Twitter feed said there were "good seats still available" for Game 4.
Despite the team's surprising run to the National League West title, Arizona was still 18th in overall attendance on the season, averaging 25,992 per game -- up from 25,394 in 2010. Among playoff teams, only the Rays had a lower attendance. The Rays drew 18,878 per game, more than only the A's.
The Diamondbacks played before an average capacity of 53.4 percent, the seventh lowest in baseball. No playoff team had a worse percentage. Tampa Bay played in front of an average of 55.4 percent full crowds at Tropicana Field.
Game 4: Diamondbacks at Brewers, 9:37 p.m. ET, Chase Field, TBS
PITCHING MATCHUPS
Wolf vs. Diamondbacks: The left-hander has had trouble against Arizona this season, losing both his starts and putting up a 6.08 ERA in 13 1/3 innings pitched. On July 5 he gave up seven runs on 10 hits in six innings of a Brewers loss at Miller Park, while he was better on July 18, allowing just two earned runs (three total) on eight hits in 7 1/3 innings at Chase Field. Justin Upton is just 5 for 20 (.250) against Wolf, but two of those five hits are homers. Lyle Overbay, Parra, Roberts and Young also have homers against Wolf.
Saunders vs. Brewers: Saunders earned a no-decision in the Diamondbacks' loss to the Brewers on July 20, allowing two runs on five hits in seven innings. He's 0-1 with a 5.68 ERA in two career starts against Milwaukee. Braun is 2 for 6 in his career against Saunders with two homers. Prince Fielder is hitless in six plate appearances against Saunders, striking out three times and walking once.

NOTES
The roof will be closed for Game 4 at Chase Field.
Saunders injured his left hand in batting practice earlier in the series.
Goldschmidt gets his third consecutive start over Overbay. Goldschmidt has struggled against left handers this season, hitting just .162/.279/.378 with two homers in 43 plate appearances. Overbay was 3 for 8 with a double and a homer against Wolf in his career, but had four strikeouts.
Gomez and Kottaras are making their first starts of the series. Kottaras has an RBI double and a walk in his only two plate appearances against Saunders. Gomez is 4 for 13 with a double and triple against the Diamondbacks starter.
For more baseball news, rumors and analysis, follow @eyeonbaseball on Twitter or subscribe to the RSS feed.