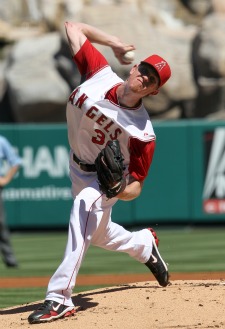 After an offseason without much spending, it looks like
Angels
owner Arte Moreno is opening up his pocketbook -- and not just taking on the worst contract in baseball, but also opening up talks for a long-term deal with his best pitcher,
Jered Weaver
.
Moreno said the team has started long-term contract negotiations with the 28-year old right-hander,
according to Mark Saxon of ESPNLosAngeles.com
. Weaver has asked for $8.8 million in arbitration with the Angels offering $7.45 million.
General manager Tony Reagins said he didn't know if the team would work something out before their schedule arbitration history.
"I have no idea," Reagins said. "Any time you have dialogue, it's positive."
Weaver is represented by Scott Boras, so if he signed a long-term deal before free agency, he'll have to get paid well. However, Boras and Moreno don't have the best relationship. When asked about his relationship to Boras, Moreno didn't exactly speak in glowing terms:
"My mother always told me, 'If you don't have something nice to say about somebody, don't say anything.' I don't have to deal with anybody I don't have to deal with. That's the way I live my life."

A deal would certainly behoove the Angels. Weaver is 64-39 with a 3.55 ERA in his career, and was fifth in Cy Young voting last season after going 13-12 with a 3.01 ERA and his 233 strikeouts were more than any other pitcher in baseball. He also had an xFIP of 3.51, the best of his career. He appears to be maturing and becoming one of the game's best starters, a locking him up to a long-term deal would certainly benefit the Angels.
-- C. Trent Rosecrans
For more baseball news, rumors and analysis, follow @cbssportsmlb on Twitter or subscribe to the RSS feed.