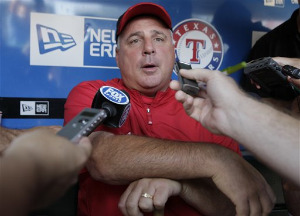 A sweep at the hands of the lowly
Orioles
has put the final nail in the coffin of the
Angels
, and manager Mike Scioscia admitted Thursday that while many players didn't play up to expectations, the expectations themselves were flawed.
"There's no doubt our evaluations were off. No doubt," Scioscia told the Orange County Register.
"
Certainly as we evaluated guys and projected what their contributions would be, it's obvious that the evaluations haven't panned out on a couple of guys."
Los Angeles is 10 games back in the American League West, 14 back in the wild-card race and below .500 in August for the first time since 2003. Less than two weeks ago the Angels traded for
Dan Haren
, thinking they were still contenders, but now it's over.
Scioscia pointed to outfielder
Juan Rivera
as an example of someone whose contribution hasn't matched the Angels' projections. Rivera had 88 RBI and 25 homers last season, but with two-thirds of this season in the books he's at 40 RBI and 12 homers.
A certain number of unexplained dropoffs are part of the game for every team. You don't expect
Scott Kazmir
's ERA to jump two points, or for
Brandon Wood
to actually regress and bat .168. On the other hand, the Angels shouldn't be surprised, if in fact they are, by declines from 37-year-old sluggers
Bobby Abreu
(56 RBI) and
Hideki Matsui
(.249 average and a big drop in homers).
Scioscia thinks the Angels would have been in it if more players had simply achieved averageness.
"
You're talking about [expecting] routine years," he said. "We're not even talking about exceptional seasons."
-- David Andriesen

For more baseball news, rumors and analysis, follow @cbssportsmlb on Twitter.