By Evan Brunell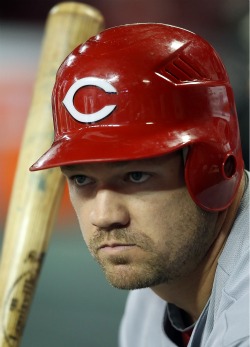 Scott Rolen won't be coming off the disabled list on Friday, the first day he is eligible, as he still has yet to start baseball-related activities -- with one exception.
"I took about five unauthorized swings," Rolen said as he relayed a story of trying to sneak in some swings with the bat lately. During a recent game, Rolen snuck into the batting cage behind the home dugout in the middle of the game. "It was a covert operation," Rolen explained to MLB.com. "I snuck in, looked around -- nobody. I went around the back way and had a bat in there, dragged it with me, no batting gloves, nothing, and a ball was already on the tee. [I heard] 'I thought we weren't going to do that.' It was [Dr. Tim] Kremchek of all people. I haven't even swung yet. I told him this place is bugged."
And that's been the extent of Rolen's rehab from a strained left shoulder. His slow going has pushed Rolen toward pursuing acupuncture as a potential relief method at the suggestion of Kremchek. Rolen had been struggling with tight muscles in his neck and back as a result of the strained shoulder, but that appears to be letting up.
"I'm feeling better," Rolen said." I have more motion in my shoulders. I can feel this stuff [between his neck and back] letting go a little bit. It's giving me some range of motion and some relief."
Miguel Cairo has been Rolen's primary fill-in, but has received some rest lately as age and general soreness is catching up to the utility infielder. Shortstop Paul Janish has shifted over to third to help fill the breach, but manager Dusty Baker is hoping to give Edgar Renteria some starts at third. Renteria has no career games at third and just three games at second and one at first -- no starts -- in his career. The rest of his games, all 2,038 of them, have come at short. Renteria was supposed to start at third Monday, but Baker reversed course and slotted him at short before the game was rained out. Tuesday, Renteria manned shortstop, so his third base debut has yet to come.
"I know I don't feel comfortable there yet," Renteria said Tuesday. "It's different between playing and taking ground balls. Maybe I will like it when I play there."
For more baseball news, rumors and analysis, follow @cbssportsmlb on Twitter or subscribe to the RSS feed.