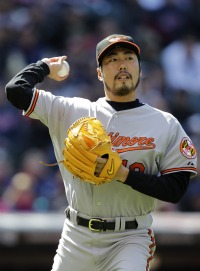 By C. Trent Rosecrans
Before a full-count pitch to Shin-Soo Choo with one out in the eighth inning on Sunday, Orioles reliever Koji Uehara had gone 36 appearances without a walk.
That pitch -- much to the chagrin of Uehara and manager Buck Showalter -- was called a ball, ending the third-longest streak in baseball history behind Dennis Eckersley (41 games from 1989-1990) and John Smoltz (38 games from 2003-2004).
"I'm not so sure it was a walk, either," Showalter said of the pitch called a ball by home plate umpire Ed Hickox, via the Baltimore Sun.
Uehara, through his interpreter, told reporters, "I think it wasn't going well with the umpires today."
After going 36 appearances without a walk, Uehara walked Travis Hafner after striking out Carlos Santana. His last walk before today was July 16, 2010, to Fred Lewis, then with the Blue Jays.
Uehara needed 29 pitches to get through the inning in which he also struck out two batters, but had needed just 33 pitches to get through the first 4 2/3 innings he'd thrown this season. Still, he said he'll be ready to pitch on Monday. He's allowed just one hit and no runs in five appearances this season.
For more baseball news, rumors and analysis, follow @cbssportsmlb on Twitter or subscribe to the RSS feed.