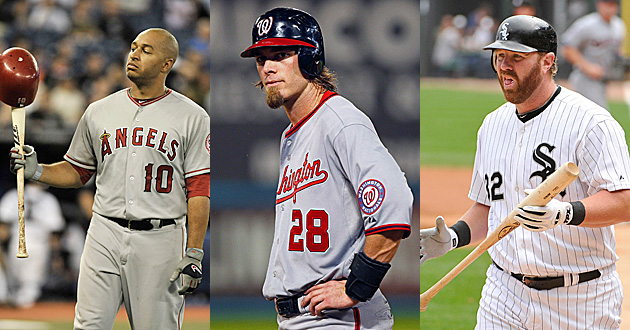 By Matt Snyder
As we continue our look at the most cumbersome contracts in baseball, today we'll look at outfielders and designated hitters. We covered the
infield and catchers Wednesday
and will look at pitchers Friday. As a reminder, we're looking at what is left on the contract, not what the player has been paid through the duration of the deal.
Left Field

Worst:
Vernon Wells
,
Angels
Remaining contract:
3 years, $74 million
Man, this was a tough call because it's a crowded field (see below), but we'll go with Wells because the average annual value remaining on the contract is insane. He hit .218/.248/.412 last season and had a negative WAR, meaning a replacement-level player was better than a guy making over $25 million for the season. At age 33, he could certainly bounce back, but it's hard to see him all of a sudden becoming worth as much money as he's making.
Honorable Mention
Carl Crawford
,
Red Sox
: There are six years and $128 million left on the deal, and I feel like many will argue that Crawford's remaining contract is worse than Wells'. I'm willing to give the 30-year-old Crawford a mulligan for his catastrophic first season in Boston. Next year at this time we'll know a lot more.
Alfonso Soriano
,
Cubs
: Amazingly, he still has three years and $57 million left. Wow.
Jason Bay
,
Mets
: In two seasons for the Mets, Bay has hit .251/.337/.386 (what an ugly slugging percentage for a supposed power hitter) with just 18 homers in 218 games. He still has two years and $36.25 million left, too, in addition to a $3 million buyout should the Mets not pick up his option year.
Center Field

Worst:
Alex Rios
,
White Sox
Remaining Contract:
3 years, $38.5 million
While his teammate got much of the blame last year in terms of the White Sox's shortfall -- and you'll see him below -- Rios was pretty awful himself. He hit .227/.265/.348, which was good for a 65 OPS-plus (if you don't know what that is, trust me, it's embarrassingly bad). He actually posted a negative 1.5 WAR, meaning -- according to the stat -- that he single-handedly cost the White Sox a win and a half just by being in the lineup when he was. And now, thanks to that contract, he's untradeable.
Honorable Mention
Actually, I've got nothing here. Once one-time center fielders' contracts get too big they are usually shoved to the corners. The big-money guys here (
Matt Kemp
,
Curtis Granderson
, etc.) are fairly compensated.
Right Field

Worst:
Jayson Werth
,
Nationals
Remaining contract:
6 years, $116 million
Very easy choice. I fully expect a bounce-back season from Werth this year, as several things didn't go his way last season. That being said, the Nationals are paying Werth like he's a superstar all the way until the season in which he turns 38. He wasn't even a superstar his last year in Philadelphia, when he was 31.
Honorable Mention
Nick Markakis
,
Orioles
: There's a reason you only hear about other teams asking for
Adam Jones
in a trade and not Markakis. The latter is due $43.05 million over the next three seasons while he hit .284 with 15 homers and 73 RBI last season. You need more offense than that from a corner outfielder in order to pay him almost $15 million a year.
Designated Hitter

Worst:
Adam Dunn
, White Sox.
Remaining contract:
3 years, $44 million
Another easy one. Like Werth, I also expect Dunn to bounce back, but there's no way he can be good enough to earn his full contract over the next three years, especially considering how bad he was last season. He was historically awful with the bat -- there's really no need to rehash the gruesome details at this point -- and that's all he does. And if he does field, his value actually decreases because he's such a butcher with the glove.
Honorable Mention
Travis Hafner
,
Indians
: Nitpicky here, but Pronk will make $13 million this season. He's only averaged 91 games per year the past four seasons. No one else really warrants mention, because Big Papi, for example, is still worth the big bucks.
On the Other Hand ...

Justin Upton
,
Diamondbacks
: Thanks to an early Longoria-type extension, Upton is set to make $46.109 million over the next four seasons. He made just under $4.5 million last season, when he finished fourth in a crowded NL MVP field. Since Upton is only 24, the D-Backs will have to pony up again -- and probably in huge fashion -- to lock him up through his prime, but for now this is a very team-friendly contract.
Special Cases
Bobby Bonilla, Mets: This is both hilarious and sad at the same time. When the Mets bought out Bonilla's $5.9 million contract in 2000, they agreed to repay him
with interest
starting 11 years later. Beginning July 1, 2011, the Mets are paying Bonilla an annual salary of roughly $1.2 million until 2035. Or around $35 million in all. In 2012, the Mets will pay Bonilla more than the following regulars/rotation members:
Daniel Murphy
,
Ike Davis
,
Lucas Duda
,
Josh Thole
,
Ruben Tejada
,
Jonathon Niese
and
Dillon Gee
.

Manny Ramirez,
Dodgers
: We'll ignore that the Red Sox are paying Manny B. Manny $2 million per year until he's 54 because he helped bring them two World Series titles. But the Dodgers are paying Ramirez $8.33 million in 2012
and
2013. Assuming
Clayton Kershaw
gets more in arbitration, that means Manny will be the Dodgers' sixth highest-paid player this season. Of course, Frank McCourt is still going to make a billion dollar profit, so ...
---
Part I:
Infielders and catchers
Part III:
Pitchers, coming Friday
Source for all figures was Cot's Baseball Contracts
For more baseball news, rumors and analysis, follow @EyeOnBaseball on Twitter, subscribe to the RSS feed and "like" us on Facebook.