There's no list like a minor league free agent list -- and
Baseball America has the complete list
of has-beens, shoulda-beens and never-beens.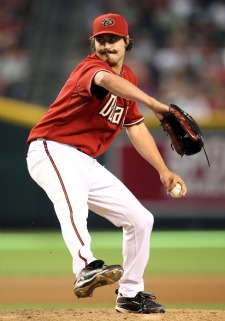 These players are any that aren't on a 40-man roster on Nov. 7 qualified for free agency if he had accumulated at least six years of service time (minors and majors) while still bound by his first uniform player contract. There are 533 on the list and here are a few that jumped out to me for various reasons (not including both Drew T. Anderson and Drew M. Anderson):
• LHP Clay Zavada (pictured) (
Diamondbacks
) -- great mustache.
• 1B Carlos Delgado (
Red Sox
) -- really.
• OF Wladimir Balentien (
Reds
) -- former
Mariners
' prospect had a monster season at Triple-A Louisville (.282/.337/.536 with 25 home runs).
• 2B Kazuo Matsui (
Rockies
) -- a warning for those interested in Tsuyoshi Nishioka?
• RHP Charlie Zink (
Twins
) -- subject of
a great New Yorker article
a couple of years back.
• OF Jacque Jones (Twins) -- seriously, I thought he'd retired.
• C Michael Barrett (
Mets
) -- ditto.
• C J.R. House (Mets) -- record-setting high school quarterback.
• RHP Brandon Duckworth (
Phillies
) -- remember him?
• OF Wily Mo Pena (
Padres
) -- the
Bronson Arroyo
and cash deal for Wily Mo was a pretty good deal for the Reds.
• OF Endy Chavez (Mets) -- I've got a great bobblehead of his catch from the 2006 NLCS.
• OF Willy Taveras (
Rangers
) -- he's fast, so someone will give him a chance.
-- C. Trent Rosecrans
For more baseball news, rumors and analysis, follow @cbssportsmlb on Twitter or subscribe to the RSS feed.