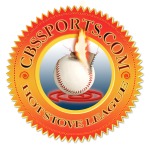 Well, this week has kind of been the March of the Hot Stove League season, in like a lion, out like a lamb -- but there is still some action out there. So here's another roundup.
• The four teams on Justin Upston's no-trade list are the A's,
Royals
,
Tigers
and
Indians
. (FOXSports.com's Ken Rosenthal,
via Twitter
)
• The
Diamondbacks
have made a two-year, $3 million offer for Japanese starter Hiro Kobayahsi. (NPB Tracker
via Twitter
)
• The
Braves
and
Dan Uggla
are both open to multiyear contract extension. (
Atlanta Journal-Constitution
)
• The Braves have made an offer to free agent Eric Hinske. (
Atlanta Journal-Constitution
)
• The
Red Sox
are "undecided" whether they will bid for Japanese infielders Tsuyoshi Nishioka. (
WEEI.com
)
•
Larry Stone of the Seattle Times notes
Bob Engle, the
Mariners
vice president for international operations, signed both Cy Young Award winners,
Felix Hernandez
and
Roy Halladay
. He's also got 2005 Cy Young Award winner
Chris Carpenter
and 1996 Cy Young-winner Pat Hentgen on his resume.
• The
Yankees
released reliever
Jonathan Albaladejo
, who signed with the Yomiuri
Giants
in Japan. (
Star-Ledger
)
• There were plenty of 40-man moves on Friday, as teams set their rosters in the deadline for the Rule 5 draft. The most interesting moves belonged to the
Pirates
, who designated
Zach Duke
,
Andy LaRoche
and
Delwyn Young
for assignment. The only other name that really jumped out at me was that the Mariners put Josh Lueke on their 40-man roster. Lueke was part of the trade that sent Cliff Lee to Texas. In 2009, Lueke plead no contest to charges of false imprisonment with violence after an incident in 2008. Lueke will be a controversial figure if he gets called up to Seattle.
UPDATE:
The Pirates tried to negotiate a contract with Duke, who is arbitration-eligible, and also explored a trade. (
MLB.com
)
-- C. Trent Rosecrans
For more baseball news, rumors and analysis, follow @cbssportsmlb on Twitter or subscribe to the RSS feed.