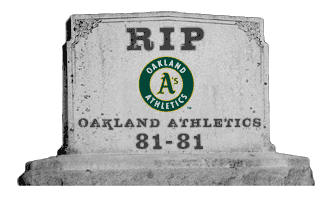 As the sports world waits for the crowning of a champion, 22 other teams are busy preparing for spring training. What went wrong for these teams, and what does 2011 hold? MLB Facts and Rumors here at CBS Sports will be answering those questions through all of October. Today: The Oakland Athletics.

Is there a more anonymous team in baseball right now than the Athletics? OK, maybe the
Brewers
.
The A's are a clear No. 2 in a two-team market, they play on the West Coast, so nobody sees their games, they don't have any high-profile stars because the roster is always filled with kids, and they're neither good enough nor bad enough for you to really notice them.
With the exception of
Dallas Braden
's perfect game, the A's kept their usual low profile in 2010, finishing a perfectly average 81-81, nine games out in the American League West. They pitched well, but injuries and a lack of offense kept them from ever being a factor.
WHAT WENT WRONG
The A's just didn't hit well. They were 11th in the AL in runs, 13th in total bases, 13th in slugging and 13th in home runs (thank goodness for the horrendous Seattle offense for padding the bottom of the barrel).
Their three players who made the most starts in the ever-rotating outfield combined for seven home runs. Seven! Nobody hit more than
Kevin Kouzmanoff
's 16.
When you field a team with the lowest payroll in the league, you need everything to go right, and the punishing number of injuries the A's had to deal with gave them no chance. They had 26 disabled list trips made by 23 different players, costing them a total of 1,399 games.
Where do we start?
Eric Chavez
made it 33 games before a bulging disc forced him out, and he might retire.
Coco Crisp
was limited to 75 games.
Justin Duchscherer
made just five starts, and
Ben Sheets
was lost on July 20. They got
Conor Jackson
in a midseason trade and got just 57 at-bats out of him.
The list goes on, but you get the idea.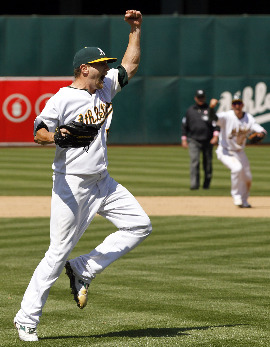 WHAT WENT RIGHT
The A's got some great solid pitching at the top of the order, with
Gio Gonzalez
winning 15 in his first full season,
Trevor Cahill
winning 18 and Braden winning 11, including his May 9 whitewashing of the
Rays
. Oakland had the third-lowest ERA for starting pitchers in all of baseball.
Daric Barton
had an outstanding year at first, batting .273 but finishing fifth in on-base with a .393. He also played good defense, as did the A's in general, best in the AL by some defensive metrics.
The A's also got good results from their bullpen, notably
Craig Breslow
and All-Star
Andrew Bailey
.
HELP ON THE WAY
The rash of injuries among the veterans left a lot of playing opportunities for young players, and several have shown they will be big contributors, including Cahill and Gonzalez. And
Brett Anderson
is going to put up big numbers if he can stay healthy.
Outfielder Chris Carter had an ugly introduction to the majors, but is still a big prospect. Another top outfield prospect, Michael Taylor, is on the way, and will bring some power with him.
EXPECTATIONS FOR 2011
Nobody is going to be picking the A's to win the World Series, but with their young, strong pitching and considering the extent to which injuries hampered them in 2010, they'll certainly be expected to put up a winning record.
SUGGESTIONS FOR 2011
They need bats, but where do they get them? They have pitching to dangle, but trading young pitching isn't exactly Billy Beane's way. Crisp is one trade option (they'd have to pick up his $5.75 million option first), as the A's are deep in the outfield.
The biggest decision the A's face is whether to pick up second baseman
Mark Ellis
' option at $6 million. He's one of their few veteran leaders and is very good defensively, but that's a decent chunk of change for the A's and they have
Eric Sogard
on the way.
Without a big payroll move, which isn't going to happen, there are no easy answers for the A's. It's going to be a balancing act between recovering injured players, developing organizational pieces and cut-rate free agents.
2011 PREDICTION
Considering they're bound to be healthier and they have talent that is still maturing, the A's should improve next season. But considering the AL wild card had 95 wins this season, it's going to take a big improvement to get into playoff position.
Check out the rest of the
R.I.P. reports here.

-- David Andriesen

For more baseball news, rumors and analysis, follow @cbssportsmlb on Twitter or subscribe to the RSS feed .