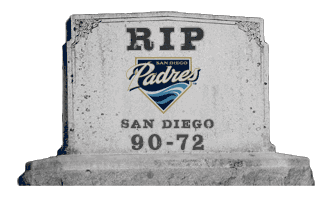 As the sports world waits for the crowning of a champion, 22 other teams are busy preparing for spring training. What went wrong for these teams, and what does 2011 hold? MLB Facts and Rumors here at CBS Sports will be answering those questions through all of October. Today: The San Diego Padres.

Few people expected to see the Padres in the playoffs, and in the end, nobody did.
But San Diego's postseason hopes were supposed to be buried by about June, not the last weekend of the season with a crushing collapse. The Padres spent most of the season in first place in the National League West behind a tremendous pitching staff, only to find that in the end their lack of offense would do them in.
What they accomplished was impressive considering they had the second-lowest payroll in baseball, but Padres fans will remember 2010 for what might have been.
WHAT WENT WRONG
In a word, September. The Padres entered the month in the clutches of a 10-game losing streak that turned their season the wrong direction, and they couldn't regroup.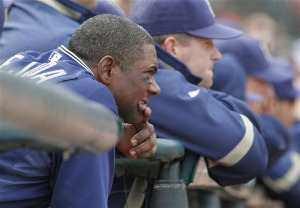 San Diego went 14-17 after September 1, batting .229 and failing to score more than a run nine times. Clinging to a half-game division lead on September 25, the Padres lost five of their last eight (three by shutout), capped by a 3-0 loss on the final day of the season that gave the division to the
Giants
and left them out of the playoff picture.
Adding
Ryan Ludwick
at the deadline looked like a great move, exactly what they needed to give the offense some punch. But moving to cavernous Petco Park, Ludwick's batting average dropped 80 points after the trade to .211, and his slugging percentage dropped more than 150 points to a miserable .330.
Injuries didn't help matters.
David Eckstein
,
Jerry Hairston
, Everth Cabrera and
Tony Gwynn
Jr. missed big chunks of the season, as did pitcher
Chris Young
.
WHAT WENT RIGHT
The pitching, particularly the lights-out bullpen, was tremendous. The relief corps, led by
Mike Adams
, Luke Gregorson and
Heath Bell
, had baseball's lowest ERA, 2.81, and limited hitters to a .220 average. If the starting pitcher left with a lead, it was all but over for the opposition.
Speaking of starting pitchers, the Padres's top three –
Clayton Richard
,
Jon Garland
and
Mat Latos
-- each won 14 games. Latos went through a streak of near-invincibility, going a major-league record 15 consecutive starts giving up two or fewer earned runs between June and September.
All-Star
Adrian Gonzalez
was the offensive highlight, batting .298 with 31 homers and 101 RBI, which not only led the team but was 43 more than the next-highest total. Jerry Hairston was a huge spark off the bench, playing five positions and racking up 50 RBI despite batting a modest .244.
HELP ON THE WAY
With the Padres fighting for a postseason berth, Simon Castro didn't get a September callup, but the right-handed starter is right at the top of San Diego's prospects list. He struggled after going up to Triple-A, but the 22-year-old has a bright future.
A bit farther away is 20-year-old outfielder Jaff Decker, a left-hander power hitter who will be moving up fast from Class A.
EXPECTATIONS FOR 2011
The arms are there for another run at the playoffs. The entire bullpen (barring trades) returns, and they have a nice stable of starters. If they can fix their obvious offensive shortcomings, they won't be catching anyone by surprise next year.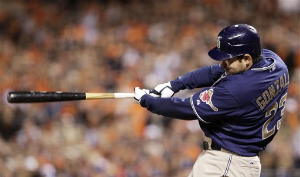 SUGGESTIONS FOR 2011

Owner Jeff Moorad says he won't allow Gonzalez to be traded before next season, which is a good thing. Even if you could get multiple offensive pieces in return, consider Gonzalez your bird in the hand. There might be no other player in baseball who represents a bigger chunk of his team's offense, and his $5.5 million option is reasonable.
Young's $8.5 million option, on the other hand, is not realistic. That would represent nearly a quarter of the team's payroll, and given his injury history and the team's other options, they can't do it. Bell is in his final year of arbitration and will get a raise, and the Padres have to consider trying to lock him up long-term.
Re-sign Eckstein, which shouldn't cost much. Try to get Hairston back. And look for bargain offensive help that can hit in the gaps.
2011 PREDICTION
You can't count on the Padres repeating their across-the-board pitching excellence, so it's going to take more than a token offensive improvement to make them a viable contender. There's some talent rising up in the division, and it will be tough for the Padres to keep pace with their payroll.
Check out the rest of the R.I.P. reports here.
-- David Andriesen
For more baseball news, rumors and analysis, follow @cbssportsmlb on Twitter or subscribe to the RSS feed .