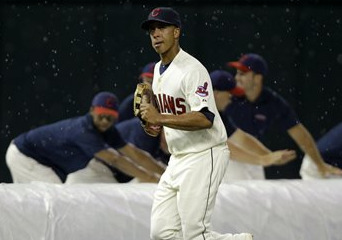 The
Indians
are continuing the youth movement and will call up outfielder Michael Brantley on Friday.
The move will be Brantley's third tour with the team -- but unlike the previous two call-ups, Brantley will receive extensive playing time.
"We feel Michael has done just about everything he can do in minor league baseball," manager Manny Acta told the
Cleveland Plain Dealer
. "The last time he went down, it was just a matter of us having too many outfielders up here."
Brantley cannot be recalled until Friday until he has spent at least 10 full days in the minors.
Brantley will assume leadoff duties and man center field while trying to improve on his .157/.230/.206 line in 114 plate appearances. In 121 plate appearances in 2009 near the end of the season, however, he hit at a .313/.358/.348 clip. Originally acquired in the
CC Sabathia
trade, the lefty is hitting .319/.399/.426 in 306 plate appearances.
Will Brantley be starting full time? Acta wasn't sure, but is committed to getting Brantley in the lineup on a regular basis.
Shelley Duncan
and
Trevor Crowe
will platoon in left, with Duncan also platooning at DH with
Jordan Brown
until
Travis Hafner
returns. Third base is also in flux.
"When he gets back, he's going to have his opportunity here," Acta said. "We love the guy. We really think he's going to be a good player for us. He's going to have his chance."
- Evan Brunell


For more baseball news, rumors and analysis, follow @cbssportsmlb on Twitter.