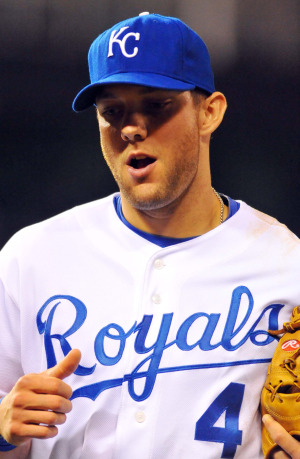 Poor
Alex Gordon
.
Drafted No. 2 in the 2005 MLB draft and considered by many to be the best
Royals
hitter since George Brett, Gordon has instead disappointed many with his evolution into a league-average player. Except being an average player in the majors is nothing to be disappointed about.
Gordon hit .260/.351/.432 in 2008 as a 24-year-old for Kansas City, but struggled through an injury-marred 2009 season. He only got 12 games to his name in 2010 before the Royals decided enough was enough and demoted him to Triple-A.
Prior to the demotion, Gordon was hitting .194 but had seven walks to his name and no indication that his power was suffering. To no one's surprise, Gordon is laying waste to Triple-A pitchers and proving he truly belongs in the major leagues. In 38 games for Omaha, he's hitting to the tune of a .359/.486/.641 line -- as a left fielder.
That's right, the Royals decided to move Gordon to a position that commands players be big sluggers instead of keeping him where he can produce the most bang for buck.
Gordon will probably never be a George Brett clone, but at age 26 with an ability to man third base in the major leagues, he has value to any major league team. Except the Royals aren't interested.
"I don't want to bring Alex up here right now if he's not going to play," Royals manager Ned Yost
told
USA Today
. "And we've got enough outfielders with [Rick] Ankiel coming up, and that's going to create another player to put in the mix. To me, he's better off down there playing every day until something opens up."
Unfortunately for Gordon, the organization seems sold on
Chris Getz
(hitting .195/.278/.207 through 98 plate appearances) at second base. Otherwise, there's a pretty obvious position available: shift Callaspo back to second and slot Gordon in at third base.
Alas, Gordon will have to content himself by playing left while he sees players like Jose Guillen and
Scott Podsednik
pile up the losses for KC.
-- Evan Brunell
For more baseball news, rumors and analysis, follow @cbssportsmlb on Twitter.