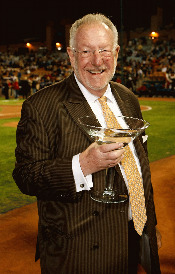 To call Las Vegas mayor Oscar Goodman a showman is an understatement. And the show he wants to bring to Sin City is baseball.
Goodman has long made conspicuous his desire to see a big-league team in his city -- we're talking
really
conspicuous. A few years ago he hobnobbed in the busy hotel lobby at the winter meetings with a fully costumed showgirl on each arm. He wasn't invited, he just showed up to be seen and make sure Vegas was talked about.
According to
bizofbaseball.com,
Goodman brought the subject up again at his weekly news conference Thursday, saying there were "very serious" discussions about building a 45,000-seat domed facility on city land. When someone asked who such a building's tenant would be, he said, "I have been advised we are designated an American League city."
Hard to say who would have told him that or why, since baseball has no plans to expand or relocate any franchises. Vegas was considered, though not seriously, when the Expos moved, and there is currently talk that the A's could be on the move if they can't get their stadium issue settled. But relocation is talked about far more often than it's done -- keep in mind that it has happened exactly once in the past 38 years.
Professional leagues have shied away from Las Vegas because they don't like the idea that people gamble on their games, and because they have visions of shady characters slipping players money to throw games. Both notions are ridiculous, especially now that the internet has assured that sports betting happens everywhere.
Las Vegas is the 28th-largest market in the country, and growing fast. It supports a Triple-A team (
attendance
isn't great, but sitting outside in Vegas in the summer is a tough sell). The next time baseball needs a new home for a team, there's no good reason the city shouldn't be in the conversation.
Alas, it will not happen on Goodman's watch. His reign as mayor ends thanks to term limits at the end of 2011.
"We'll never be a major-league city unless we have a major-league team," Goodman said. "I was hoping I could have thrown out the first pitch, but I said that 11 1/2 years ago."
-- David Andriesen
For more baseball news, rumors and analysis, follow @cbssportsmlb on Twitter.