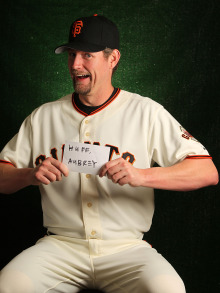 There are certain things that maybe should just stay in the clubhouse. Not for the sanctity of the clubhouse or anything like that -- no, instead just because I'm not sure I wanted to know them. But since I do know it -- now you have to as well.
So, thanks to
Andrew Baggarly of the San Jose Mercury News
, you will have this picture in your head, too. The
Giants
'
Aubrey Huff
is wearing a red thong. A lacy one. One Baggarly says he walks around the clubhouse wearing and sports during interviews -- with no accompaniment.
"We're 3-1 with it," he yelled after Saturday's victory. "I might never get a hit the rest of the year, though."
Huff said it's the team's lucky thong -- not his own. The team improved to 4-1 with the thong after Sunday's victory over the
Dodgers
. The thing is, it's not helping Huff. He's just 2 for 19 in the thong's five games.
"It's the Rally Thong," Huff
told Baggarly after Sunday's game
. "It's not a slump thong. If I was wearing it to break a slump, I would've burned it a long time ago."
Huff was 1 for 4 on Sunday, with a double. He's hitting .200 in 24 games since Aug. 8.
"This is a team thing," Huff said. "When I broke it out [Tuesday], we had 30 games left. I said, 'Guys, here's 20 wins right here.'"
The Giants are now just a game behind the
Padres
-- who could use a Rally Thong themselves, losing 10 straight. I doubt that this catches on like the Rally Monkey, and for that, I'm grateful.
But a word of advice to the Padres if they're thinking about stealing this superstition -- the rose goes in front, big guy.
--
C. Trent Rosecrans

For more baseball news, rumors and analysis, follow @cbssportsmlb on Twitter or subscribe to the RSS feed .