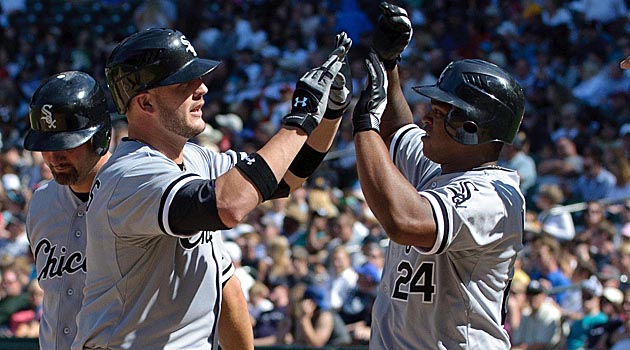 By Matt Snyder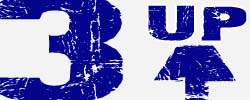 Dayan Viciedo/Tyler Flowers, White Sox.
The White Sox moved one game over .500 and to within six of the AL Central-leading
Tigers
with a 9-3 win
over the
Mariners
Sunday, and the young guys were front and center. White Sox fans have clamored for Viciedo's promotion from the minors all summer and he finally made it to the show Sunday. In his first start of the 2011 season, Viciedo hit a three-run home run to give the Sox a 3-0 lead. Later, 25-year-old catcher Flowers must have felt a bit left out, because he clubbed a grand slam in the sixth inning, as part of a six-run rally that would put the game away.
Zack Greinke, Brewers.
Greinke worked 7 2/3 innings, allowing just four hits and one run while striking out seven in the
Brewers 3-2 win
over the
Cubs
, but that's not why he's here. No, Greinke's getting the nod as an "up" for stealing a base. It was a straight steal, too. Meanwhile, the Brewers are actually only five games behind the
Phillies
for the best record in baseball. It's been quite the amazing run (27-5 in last 32 games).
Zach Britton, Orioles.
Britton has shown flashes of brilliance this year as a rookie, giving the Orioles hope their future ace is soon to emerge, and Sunday he put forth one of his strongest efforts of the season. The young left-hander threw seven shutout innings against the powerful
Yankees
, allowing only four hits and a walk in a
2-0 Orioles victory
. It marked the sixth straight win for the Orioles, though that
streak would stop with the nightcap
. Still, a very solid effort for Britton.
---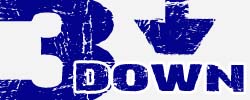 Jered Weaver, Angels.
The Angels went all in during a three-game visit to Texas this weekend, as they brought
Ervin Santana
and Jered Weaver to the hill on short rest. Santana fared well enough to get the
Angels a win Saturday
-- along with some offensive help -- but Sunday Weaver did not. The
Rangers
' offense pegged him for eight hits and seven earned runs in six-plus innings. Weaver even walked four guys, so his command may have been affected by the short rest. Also, a lot of damage was done in the seventh, when Weaver was pulled before recording an out and was charged with his last three earned runs. So it's possible his stamina was also affected by the short rest. Whatever the reason, the
Angels lost 9-5
and fell to three games out in the AL West.


Brad Penny, Tigers.
Maybe
all the cussing is getting him off his game
? Penny was roughed up by a
Twins
lineup that was missing
Joe Mauer
and
Michael Cuddyer
. Plus, they just traded
Jim Thome
. Still, in five innings Penny gave up eight hits and seven runs
en route to an 11-4 loss
.
Eli Whiteside, Giants.
How much do the Giants continue to miss
Buster Posey
? The offense has been an issue all season, as the Giants rank dead last in the NL in runs scored. Sunday, catcher Whiteside went 0-for-4 with four strikeouts. To make matters worse, Whiteside could have made it to first base on a wild pitch on his fourth strikeout but didn't run (
Extra Baggs
). When you lose
4-3 in extra innings
to the hapless
Astros
, that's a tough pill to swallow.
For more baseball news, rumors and analysis, follow @EyeOnBaseball on Twitter or subscribe to the RSS feed.