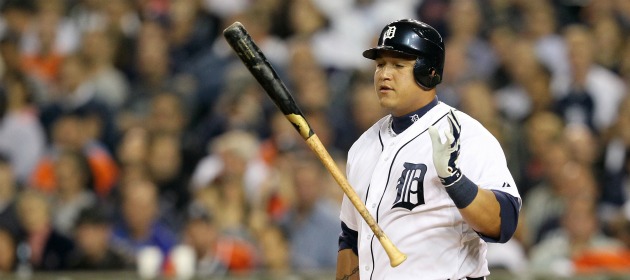 By Evan Brunell
Only once in baseball history has a team come back from a 3-0 series deficit. The Tigers would rather not fight history, but continue to struggle at the plate.

If it wasn't for Victor Martinez, the Tigers would be looking at a 1-0 deficit entering the fifth inning. Still, the story in the early going has to be Detroit's continued failure to capitalize on runners in scoring position. Detroit had a chance to answer Texas' jumping out to a 1-0 lead in the first when Martinez and Jhonny Peralta reached base in the bottom of the second, but Alex Avila and Ryan Raburn both struck out swinging to end the threat. That pushed Detroit to a scant 2-for-21 with runners in scoring position in the ALCS, and as Buster Olney of ESPN notes, the Tigers have only collected one extra-base hit (double) in the last 32 innings with runners in scoring position.

Fortunately, Martinez tied up the game with a solo homer in the bottom fourth. (And of course, it looks like V-Mart may have hurt his oblique on that swing, which would deplete the Detroit offense even more.) The Tigers' struggles with RISP are irrelevant as long as Detroit keeps jacking homers, but this isn't a team that can rely on the long ball, not with a lineup that is essentially a non-entity aside from Martinez and Miguel Cabrera (pictured). RISP has been a problem all October, as the TIgers are just 4 for 28 overall with four singles and 10 strikeouts.

As Jim Leyland mentioned Monday after the Rangers finally broke through with a walkoff grand slam after threatening numerous times throughout the game, "
If you keep giving a team like that that many opportunities they're going to get you eventually, and eventually they got us."
The Tigers are in a similar place -- it's not as if the team has been a complete zero on offense the entire postseason. They've hung tough with Texas, but the Rangers have shown the fortitude to capitalize on opportunities. For whatever reason -- blame luck of the draw, blame lack of experience, blame whatever you want -- the same can't be said of Detroit. If the Tigers hope to win the ALCS, it's time they stop waiting around for the home run and start swinging together some rallies and get this offense in a groove.
Follow the game live on CBSSports.com's GameTracker.
For more baseball news, rumors and analysis, follow @EyeonBaseball on Twitter or subscribe to the RSS feed.