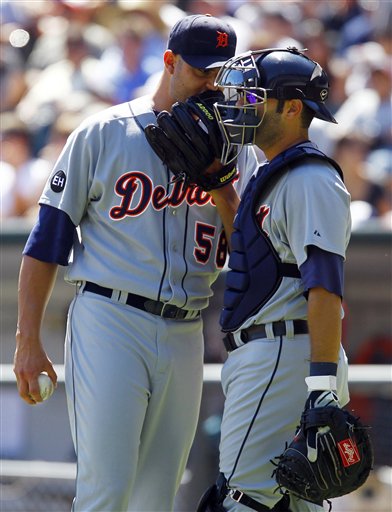 Armando Galarraga
was the guy that was able to keep his cool as history was ripped away from him in one of baseball's all-time worst calls. On Sunday, he wasn't quite so reserved, getting into a dugout scrap with both of the team's catchers in the second inning.
Manager Jim Leyland had no concerns about his starter getting into it with
Alex Avila
and
Gerald Laird
.
"I kind of liked it," Leyland told the
Detroit News
. "When you're a pitcher and a catcher, every now and then you get your signals crossed."
The three players pretty much said the same thing, despite Laird nearly throwing a punch before teammates separated him and Galarraga. The spat started with Galarraga and Avila arguing and then Laird jumping into the fray.
"Just a misunderstanding," Galarraga said.
Said Avila. "We're both competing and things got a little heated. There were a few things in there, and not soley that [there were disagreements on pitches called]. It was a big deal at the moment, but it just got a little out of hand for a moment. It was just a heated conversation. It was probably a little out of character for both of us."
Laird said he was just standing up for the younger Avila.
"Alex being young, I didn't think it was right [for Galarraga] to jump on him," Laird said. "Galarraga was just int he heat of the moment and just kind of got carried away."
He also added: "We've got a bunch of athletes here who are competing. This might be the spark to get us going."
Galarraga was able to keep his cool on the mound until the fifth inning, giving up three runs and the
Tigers
' lead. But the Tigers were able to come back against the
White Sox
's bullpen and beat Chicago 13-8.
The Tigers are 10 1/2 games behind the
Twins
in the American League Central and 14 games out of the wild card, so any chances of this being the "spark" that leads to the playoffs are remote.
-- C. Trent Rosecrans
For more baseball news, rumors and analysis, follow @cbssportsmlb on Twitter.