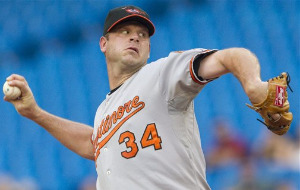 The
Orioles
may move to a six-man rotation in September,
reports
the
Baltimore Sun
.
Baltimore, suddenly surging under new manager Buck Showalter, has several young pitchers in the minors that need to be evaluated for 2011. Those include Zach Britton, Chris Tillman and recent
Marlins
import Rick VandenHurk. One possible answer is a six-man rotation.
"It's something that we have kicked around a little bit depending on what the needs of the guys are," Showalter said. "I don't think we're at that point. We'll try to let them finish off the year and when we get to September, we'll see what's best for everybody."
However, as Jeff Zrebiec says, veteran pitchers
Kevin Millwood
(pictured) and
Jeremy Guthrie
want to pitch on schedule. Moving to a six-man rotation would upset them. Further complicating things is the fact that the O's have an off-day every week for the next five weeks, reducing the need for a six-man rotation and even a five-man.
There remains room to incorporate Tillman, Britton and VandenHurk, though. For one, the team could shut down
Brian Matusz
and
Jake Arrieta
, two young pitchers who are creeping up on pitching more innings than they should. Britton is in a similar position, so he may not even be a consideration. That leaves Tillman, who definitely needs some additional starts in the majors to prepare for a potential ascension in 2011. VandenHurk, as noted previously, is a newcomer to the organization. Evaluation at a major-league level would give the Orioles a far better understanding what he can do for the squad in 2011.
The Orioles are going nowhere, so their main focus shouldn't be on Millwood or Guthrie. For one, Millwood is an impending free agent while Guthrie doesn't have the cachet to demand taking the ball every fifth day. Baltimore needs to build for the future -- and the future includes a bevy of young starters who deserve looks in the majors.
-- Evan Brunell
For more baseball news, rumors and analysis, follow @cbssportsmlb on Twitter.