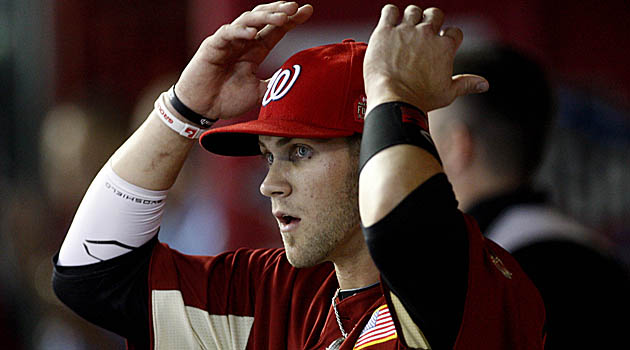 By Matt Snyder
Bryce Harper is the top prospect in all of baseball. He has prodigious power and a huge outfield arm. Low-A ball proved no match for him this season, as he hit .318 with 14 home runs, 46 RBI, 19 steals and a .977 OPS in 72 games before being promoted to Double-A. But he's still only 18, and is having a rough transition to Double-A.
Through 10 games, Harper is hitting .171 with a .237 on-base percentage and has yet to record an extra-base hit (
Nationals
Journal). He also
looked overmatched at the Future's Game
. So what does this mean?
Not a damn thing.
He's 18. Making the transition from the lower levels of the minors (Rookie ball, Low-A, High-A) to the upper levels (Double-A, Triple-A) is the toughest transition for a player this side of when they hit the majors. He even skipped a level. Plus, 10 games is hardly a representative sample from which to draw conclusions and he started slow in Low-A. It's possible he tears up Double-A pitching starting next game.
If we can say anything definitively, maybe it's that this is good for the fans clamoring for a quick Harper promotion. He's going to be special in a Nationals uniform, just not in 2011 and probably not 2012 either.
NOT SATISFIED:
After trading Tuesday night for infielder
Jeff Keppinger
,
Giants
general manager Brian Sabean said he was working on "something much bigger" before the move and that he's not done making an effort to improve the badly flawed offense (
Extra Baggs
).
GMs ON HOT SEAT:
Ken Rosenthal at Fox Sports
breaks down some general managers who may be out of a job by the time we turn the page to next season. The ones he lists on the hot seat are Ed Wade of the
Astros
and Jim Hendry of the
Cubs
. I'd argue pretty vehemently both should be canned immediately, so no shock there. Also of intrigue, Rosenthal says
Yankees
GM Brian Cashman and
Rays
GM Andrew Friedman might step away from their current posts. It would be interesting to see how quickly each is snatched up by other teams.
TROUBLE ON THE HOMEFRONT?
Before Tuesday night's loss to the
Padres
, the
Marlins
had won nine of their last 10 games, but not everyone was happy. Left-handed reliever
Randy Choate
was pulled from the game Monday after falling behind 2-0 to a hitter. Yes, in the middle of an at-bat. Considering Choate had struck out 23 lefties and walked just before the game, he felt his track record should at least allow him to finish the hitter. McKeon disagreed and yanked him, saying he was "out of sync." The two reportedly talked, but Choate was still upset. (
Fish Tank
blog)
IRRELEVANT NO-TRADE CLAUSE:
Cubs left fielder
Alfonso Soriano
told reporters he didn't even know he had a no-trade clause. Then he said he'd be willing to waive it if it meant he could play for a contender. Of course, Soriano is owed about $61 million through 2014 and considering his age, how quickly he has regressed and his current level of production, there's pretty much no way anyone is giving much for him. The guess is he's stuck in Chicago -- and, for the record, Soriano did say he was happy in Chicago and wanted to win there. (
Chicago Sun-Times
)
BEDARD'S RETURN DELAYED:
Erik Bedard
's return from injury has hit a snag, and he'll be pushed back. He's likely going to need a simulated game before thinking about a rehab assignment. This is big news, because we're approaching the trade deadline and a healthy Bedard was likely to be a pretty solid trading chip for the
Mariners
. He still might go, but his injury history will be a sticking point for potential suitors. (
Seattle Times
)
BLYLEVEN ON Twins:
Bert Blyleven will be enshrined in Cooperstown this weekend, as a new member of the Baseball Hall of Fame.
MLB.com
has a lengthy story in which Blyleven reflects on his time with the Twins. One thing that jumped out at me is how Blyleven was drafted out of high school and promoted to the majors after just 21 starts and at the age of 19. If that happened nowadays, how much would we have to hear about the Twins "rushing" him to the bigs? Just something to think about.
IKE'S SEASON STILL IN QUESTION:
Earlier Tuesday, a story about
Ike Davis
saying he feared he was done for the 2011 season broke, but then later Tuesday he changed his tone a bit. There's still a question on if he'll be able to get his ankle healed and make it back on the field, but Davis wasn't ready to rule anything out: "I'm not throwing the towel in," he said (
ESPN New York
). "I'm going to do everything I can to get healthy. And if I don't, I can't really do anything. My body is just not right. I'm working hard and I want to get back on the field."
ANOTHER RIPKEN:
Cal Ripken Jr.'s son, Ryan Ripken, is going to play in the Under Armour All America Baseball Game at Wrigley Field next month. The young Ripken hit .353 as a junior this season and the first baseman is fielding scholarship offers from several colleges. Fortunately, Cal is not pushing his son to baseball, saying he just wants Ryan to do whatever makes him happy (
Associated Press
).
HOMETOWN DISCOUNT:
Padres closer
Heath Bell
is one of the biggest names being thrown around in trade talk, but he's actually willing to take a "hometown discount" to stay in San Diego. The problem is, he's not likely to have that choice. The Padres are in rebuilding mode, and he's their most attractive trading chip. (
Sports Radio Interviews
)
TEAM FOR SALE:
The
Dodgers
aren't the only team in financial danger out west, as the Padres' Triple-A affiliate will be put up for sale if plans for a new stadium aren't finalized soon. There were plans for a 9,000-seat stadium in Escondido, but the funding for the stadium is now unavailable in the new state budget. Padres CEO Jeff Moorad said he is still holding out hope that things get worked out before the end of the year. (
SignonSanDiego.com
)
WANG BACK SOON:
Nationals starting pitcher
Chien-Ming Wang
is scheduled to make one more Triple-A start before joining the majors (
Adam Kilgore
via Twitter). For more on Wang's return to the majors, check out
my short article from this past weekend
.
For more baseball news, rumors and analysis, follow @cbssportsmlb on Twitter or subscribe to the RSS feed.