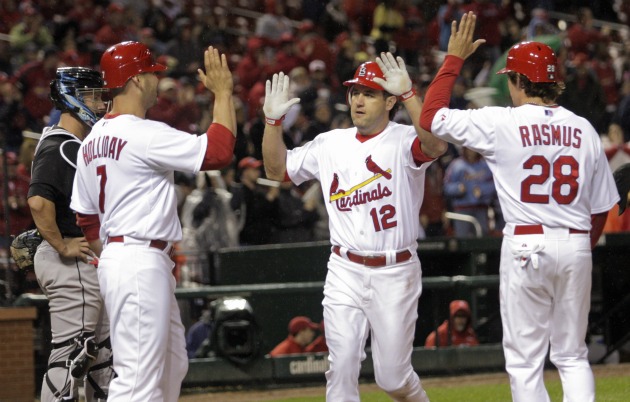 By C. Trent Rosecrans
You see that picture above? It's obviously not from tonight, because the guy on the right missed his fourth straight game because of injury and then the other two left the game with injuries.
Center fielder Colby Rasmus wasn't in the lineup to begin the game, as an abdominal muscle pull has kept him from playing since Saturday. Then Matt Holliday left after the second inning, complaining of tightness in his left quadriceps. In the sixfth, right fielder Lance Berkman left the game with right wrist "discomfort."
Berkman made a diving catch to rob Chris Johnson in the fifth and was removed from the game for a pinch hitter in the sixth inning with the wrist injury. No word yet on the severity of either injury.
Holliday was replaced by Matt Hamilton, who was then replaced by Tyler Greene, who came in to play second base (and later right field). Berkman was replaced by Pete Kozma, who hits an RBI double in his first career at-bat.
Holliday is having as good of a season as anyone not named Jose Bautista, hitting .357/.444/.557 with five homers so far this season. Berkman may be baseball's biggest surprise, hitting .349/.455/.683 with 11 homers, in his first year with the Cardinals and his first year primarily in the outfield since 2005.
Rasmus is hitting .305/.393/.461 for St. Louis, as the three make up the best offensive outfield in the league (defense, well… that's another mater). But if they're on the bench, it may not matter.
For more baseball news, rumors and analysis, follow @cbssportsmlb on Twitter or subscribe to the RSS feed.