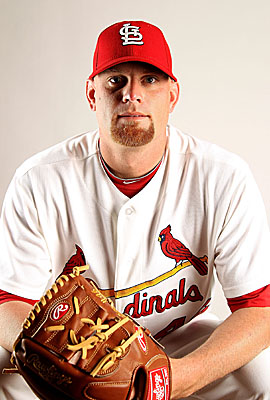 By Matt Snyder
Ah, another day of relatively meaningless spring games. Of course, there are guys fighting for a job -- like our top entry here -- otherwise we need to keep the date in mind. Skills are being honed and the results often aren't important at all, just the work that was done.
3 UP
1.
Kyle McClellan
,
Cardinals
. If the Cardinals don't go outside the organization to fill the rotation spot vacated by
Adam Wainwright
-- and it looks like they won't -- the best option would seem to be McClellan. The 26-year-old right-hander worked three scoreless innings Saturday against the
Astros
, allowing only two hits and striking out three. Another outing or two like this, and the audition for the job will be closed.
2.
Chipper Jones
,
Braves
. The veteran connected for his first home run since August 6 of last season. More importantly, he reported to Saturday being the first day he didn't feel any pain in his surgically repaired knee. Needless to say, this day mattered to Chipper, when normally a March 5 at-bat couldn't be more meaningless.
3.
Bryce Harper
,
Nationals
. The teenager got his first RBI of the spring, and it came against his childhood favorite team to boot. He's taking small steps forward seemingly with each game. It doesn't mean he's going to make the team or even play in the bigs this year, but he's gaining confidence at the professional level, which is all that really matters at this point.
3 DOWN
1.
CC Sabathia
,
Yankees
. The big man was shelled by the Nationals. His line couldn't have looked more brutal: 2 2/3 innings pitched, six hits, five earned runs, two walks, one strikeout. Of course, it doesn't matter. It's spring training and he's still a horse. Reading anything into it would be folly. In fact, I noticed a tweet today that said something like, "if CC is the one reliable member of the Yankees' rotation, what does that tell you?" My answer: absolutely nothing. It couldn't mean less.
2.
Daisuke Matsuzaka
,
Red Sox
. He was just as bad as CC, coughing up six hits, seven runs (five earned), two walks and a wild pitch in three frames. You don't wanna draw too many conclusions based upon this, but he's always struggled with command -- or been way too much of a nibbler, depending upon your point of view. So, no worry yet, but he'll need to get things together within the next three weeks.
3.
Johnny Damon
,
Rays
. Apparently this was the AL East version, by total accident. Anyway, Damon went hitless, dropping his spring batting average to .182 and also dropped a fly ball in the outfield. Hardly a banner day but, again, hardly a worry at this point. If he does go on to have a disappointing campaign, it will be due to his age -- not a bad spring.
For more baseball news, rumors and analysis, follow @cbssportsmlb on Twitter or subscribe to the RSS feed.