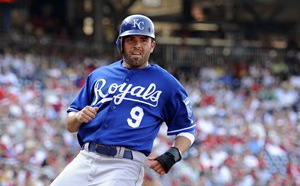 In Jon Heyman's latest
article
for
Sports Illustrated
, he quotes a general manager saying that
David DeJesus
is better than
Curtis Granderson
and
Johnny Damon
-- the two premier outfielders who shifted teams in the offseason.
Is that true?
Of the three, Curtis Granderson is the youngest at 26 years of age, albeit by just a year ahead of David DeJesus. Damon is an old fogey by comparison, checking in at 36.
DeJesus is outperforming everyone, even though Granderson is in a friendly home park and Damon is coming off a season with a .854 OPS, fourth-best of his career (with seasons 2 and 3 mere points ahead). At .331/.398/.478, DeJesus combines a strong bat with above-average defense and can play left and center. While this is likely his career year, he has a few more years ahead of him as an above-average contributor.
Damon is running out of those years and experiencing a power outage after departing Yankee Stadium. He no longer does any one thing particularly well (except drawing walks) but contributes enough in every facet of the game that he is still a strong complementary piece on a contending squad.
Granderson has to be considered one of the league's biggest disappointments after delivering 30 home runs for Detroit in 2009, a number that some felt could approach 40 with New York. Granderson has pretty clearly shown at this point that he is strictly a platoon player but is one of the better righty-killers in the league.
Granderson has a higher ceiling than DeJesus as well as an ability to make more of an impact, but the fact Granderson can't play against left-handers severely limits his value. The GM is probably spot on that DeJesus has better value today, but when both careers are examined in retrospect, it's likely Granderson will come out on top.
-- Evan Brunell

For more baseball news, rumors and analysis, follow @cbssportsmlb on Twitter.