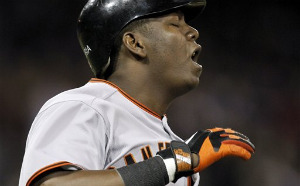 Edgar Renteria
's career could be coming to a quick end.
"I feel good," Renteria
told the San Francisco Chronicle
about his career possibly ending at age 34. "My mind is good, but sometimes the body says, 'No,' because I've had a lot of injuries this year."


Renteria signed a two-year, $18.5 million deai with the Giants that was widely panned as it was thought Renteria was on the downslope of his career. After two years of ineffectiveness and constant injuries, there's no question the shortstop hasn't lived up to his end of the bargain, which Renteria regrets.
"I'm not proud of what I've done," he said. "If they pay me to play, I just want to give back, not get injured. That's me."
Renteria, despite being 34, has already racked up 2,252 hits thanks to debuting at age 19 with the
Marlins
. He won the World Series the following season in 1997 as Florida's shortstop, hitting .277/.327/.340 in 691 plate appearances. However, he's best known for his six-year span with the
Cardinals
after a 1999 trade sent him to the Midwest for Armando Almanza, Braden Looper and Pablo Ozuna.
Renteria racked up a cumulative .290/.347/.420 line with the Cardinals before signing a major free-agent deal with Boston. Dealing with back problems and an adjustment to the AL, he posted a terrible season both at the plate and in the field with 30 errors. He was shipped to Atlanta, where he posted two seasons of value, having a career year in 2007 with a .332/.390/.470 line.
However, Atlanta sent him to Detroit after the year where he scuffled in his return to the AL. He hasn't done much better back in the NL, posting a .279/.336/.379 mark in 264 plate appearances -- which represents a big upgrade over what he produced in 2009.
If Renteria was still chugging along at age 34 like other players seem to be able to, 3,000 hits would likely be a certainty. However, he'll have to settle for being one of the best NL shortstops of his generation.
Before he retires, there's still one more thing to do: get a World Series ring. And Renteria wants to do everything he can to help in that regard. Manager Bruce Bochy said Renteria may start this weekend in Colorado with
Juan Uribe
moving to third after
Pablo Sandoval
was benched.
But once the book finally closes on his career, what's next? Although Renteria said he's been told he would make a good coach, he has his eye on business opportunities in his native Colombia as well as Florida, where he has a home.
-- Evan Brunell
For more baseball news, rumors and analysis, follow @cbssportsmlb on Twitter or subscribe to the RSS feed .