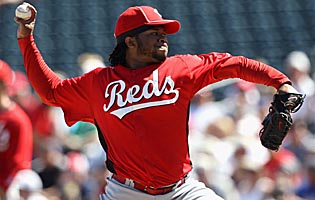 By Matt Snyder
The defending NL Central champions entered camp with at least six viable starting pitchers:
Edinson Volquez
,
Bronson Arroyo
,
Johnny Cueto
,
Travis Wood
,
Homer Bailey
and
Mike Leake
. Some fans may have even inexplicably thought
Dontrelle Willis
had a chance of impressing, but he's been moved to the minors (it was announced Sunday via press release, forgive me for yawning).
It did, however, look like an embarrassment of riches, especially if you looked from the angle that Volquez was far enough away from Tommy John surgery to fully return to form and Cueto, Wood, Leake and Bailey were young enough to expect improvement.
Instead, Bailey will start the season on the DL, Cueto is headed that way and Arroyo has mono. As a result the fairly anonymous
Sam LeCure
is going to begin the season in the rotation.
Wood has thrown the ball relatively well this spring for the most part, but he's the exception.
Leake has been dreadful, having allowed 27 hits, 16 earned runs and seven walks against just four strikeouts in 15 1/3 innings. Yes, that's a 9.39 ERA and 2.22 WHIP. This is fresh off a season that saw him go 3-4 with a 6.47 ERA after the first week of June, so there has to be plenty of concern.
Volquez has been pretty bad himself (8.38 ERA and 2.38 WHIP), to the point that
he was talking about how great he felt
after a lackluster effort last time out.
We shouldn't put a ton of stock in all spring numbers, but for young guys trying to get back in the groove or players working back from injuries, they matter to some extent. I'm sure Dusty Baker would rather have everyone throwing it well, that's for sure. The good news is nothing that's happened thus far counts and that the injuries all appear to be pretty minor. Everything could work itself out by the middle of April -- and it's a long season.
Still, within just over a week, starting pitching has gone from a strength to a big question mark for the
Reds
.
Just goes to show how precious starting pitching is, doesn't it?
For more baseball news, rumors and analysis, follow @cbssportsmlb on Twitter or subscribe to the RSS feed.