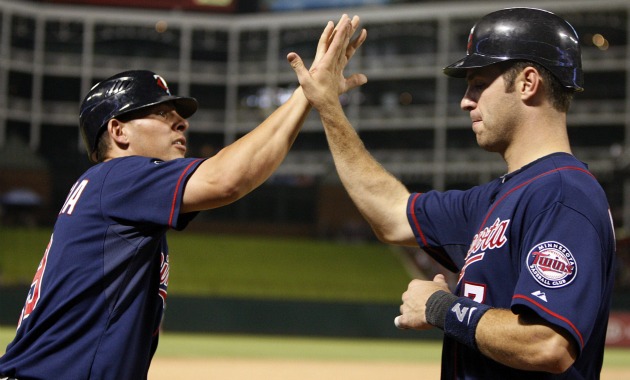 By Evan Brunell
Joe Mauer, Twins
: The first home run of the season for Joe Mauer came Wednesday night in the first inning. With two out, he launched a solo home run to right field, a 383-footer. He had a 2-for-4 night with three runs, two RBI and a walk. Now hitting .288/.357/.350, Mauer is heating up, and has been for some time. With this new power, he might be ready to carry Minnesota to a shocking first-place finish. (At six games back, it really might happen.)
Zack Greinke, Brewers
: Greinke's appeared in the 3 Down space more than once this season, but we always talked about his astounding strikeout-to-walk rate, now at an impressive 123-21, and said that his ERA -- which was 5.56 four starts ago -- would have to drop. It has, all the way to 4.50, as he's pitched 25 2/3 innings over those starts, giving up four unearned runs and none on Wednesday to the
Cubs
.
Jacoby Ellsbury, Red Sox
: Have you noticed what Ellsbury's up to lately? He's hit eight home runs in his last 17 games and now has 17 on the year, tying him with
Adrian Gonzalez
for second most on the team. The leader?
David Ortiz
, who banged his 20th on the night, adding Boston's first grand slam of the year. Ellsbury scored three, drove in two and was 3-for-4 with a walk, pushing his line to .325/.383/.528 on the year. He also stole his 29th stolen base, which is rather low for him but with the added power, the Sox don't mind. Boston's never had a 25 HR/25 SB player, by the way.
---
James Shields, Rays
: We're going to spend this edition of 3 Down yelling at pitchers who made poor starts. Let's kick things off with Shields, who somehow gave up 10 earned runs to the
Athletics
-- yes, the Oakland Athletics -- in four innings, with his ERA going from 2.53 to 3.03. The A's scored one in the third but it all exploded in the fourth with nine scored, with
Hideki Matsui
's three-run home run the biggest blow. He walked and struck out two apiece and will now attempt to banish this game from his mind as he tries to stay in the AL Cy Young race.
Bronson Arroyo, Reds
: Arroyo hasn't been doing great lately, accentuating Cincinnati's need for starting pitchers that much more acute. Arroyo, usually as steady as they come for over 200 innings and an average ERA of 4.00, has the ERA all the way up to 5.58 after allowing five runs (one unearned) in six innings. Arroyo has been shockingly consistent as to giving up four or five runs over six innings, but he's given up an inordinate amount of home runs this season, giving up his 30th on Wednesday to
Lucas Duda
. He's usually good for 30 an entire season.
Colby Lewis, Rangers
: Lewis wasn't bad like Shields, but he wasn't great either. He danced around danger, giving up eight hits and two walks, allowing four earned runs. He gave up two homers, one each to Mauer and
Michael Cuddyer
. Lewis has actually been trying to come back from a very up-and-down season, his ERA resting at 5.70 after April, driving it down to 3.48 over the next month, then getting rocked in two starts to send it way back up to 4.97. And on it went, him working it down to 3.93, before this latest outing has him an even 4.00.
For more baseball news, rumors and analysis, follow @cbssportsmlb on Twitter or subscribe to the RSS feed.