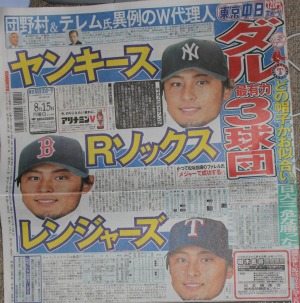 By Evan Brunell

The best pitcher slated to be on the free-agent market is
C.J. Wilson
, but he might be supplanted by a Japanese import.
While Hisashi Iwakuma is expected to come stateside a year after failing to join Oakland through the posting process, it's Yu Darvish that has everyone's attention as one of the best pitchers in Japan. At just 24 years old (Darvish turns 25 on Tuesday), the right-hander will command a hefty price through the posting process.
While Darvish is expected to be posted after opting to stay in Japan one additional year last season, news out of the
Tokyo Chunichi
sports paper
via Yakyubaya.com
notes that Darvish told teammate Yuki Saito he was planning on staying in Japan one more year, although a source close to Darvish said the Persian Japanese pitcher reported that Darvish was finding it difficult to stay motivated in Japanese baseball.
Another indication that Darvish is preparing for a move comes in the hiring of Arn Tellem and Don Nomura to represent Darvish. Nomura is popular in Japan for his ability to help players move to the major leagues. Nomura was Iwakuma's agent last year but was partly
responsible for the breakdown in talks
, leading
Iwakuma to switch agents
. Nomura is expected to handle Darvish's side of things in Japan, while Tellem will handle the U.S. side, which will certainly make the negotiating process easier with an American agent's expertise. Tellem has previous dealings with Nomura, helping the Japanese agent find the voluntary retirement loophole in Hideo Nomo's contract that allowed him to retire from baseball in Japan, freeing him up to move to the U.S. without a posting process.
The newspaper tabs the
Yankees
,
Red Sox
and
Rangers
as the best candidates for Darvish's services, adding the
Mets
,
Dodgers
and
Blue Jays
as other contenders. It's difficult to imagine the Mets and Dodgers having the funds for an outlay that could cost about $ 80 million, and the Red Sox may not want to jump back into the expensive waters to bring a Japanese pitcher to town after the
Daisuke Matsuzaka
saga, as well as coming off two major contracts signed in
Carl Crawford
and
Adrian Gonzalez
. That leaves the Yankees, Rangers and Blue Jays as the top suitors, which sounds about right.
For more baseball news, rumors and analysis, follow @EyeonBaseball on Twitter or subscribe to the RSS feed.
Photo courtesy
Yakyubaya.com.