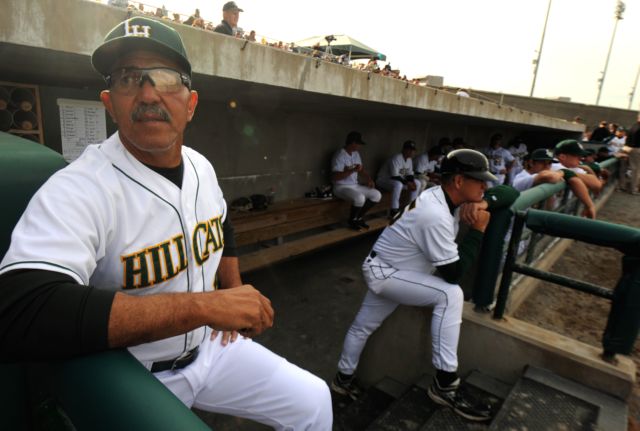 By C. Trent Rosecrans
When I went to Class A game the other day, I sat in the front row just to film from that angle and I was shocked at just how close I was sitting -- and how little the fans around me were paying attention.
Of course, it's worse at the minor-league level and in spring training where the stadiums are smaller, but it's still dangerous at the big-league level. Last night in Los Angeles, a fan at the
Dodgers
game was hit by a foul ball from
Matt Holliday
and carried off on a stretcher and taken to the hospital. [
Associated Press
]
This spring, of course,
Braves
minor league manager Luis Salazar was struck in the face by a foul ball and lost an eye.
On Friday, Salazar returned to manage the Lynchburg Hillcats.
This weekend, it was a feel-good story to see Salazar back in uniform, but it was so close to being different. [
Lynchburg News Advance
]
STRANGE BALK
-- Take a minute to watch this -- last night
Justin Verlander
tried to pick off
Daric Barton
at first, but caught a cleat in the dirt, so instead of making a bad throw to first, he threw home and hit
David DeJesus
. Home plate umpire John Hirschbeck ruled it a balk, awarding Barton second base. DeJesus later walked. Verlander said afterward, even he laughed at how it looked. [
MLB.com
]
BRADEN LEAVES EARLY
-- A's starter
Dallas Braden
left Saturday's game with shoulder stiffness after five innings. There's no update yet, but it could be bad news for the A's. [
San Francisco Chronicle
]

AFRICAN-AMERICAN PARTICIPATION DECLINES
-- As teams honored Jackie Robinson this weekend, the
Mets
'
Willie Harris
finds the lack of African-Americans in the game "sad." Only 9.1 percent of major leaguers on opening day 2010 were African-American, while 20 percent were in 1995. Harris said he doesn't think MLB markets its top African-American stars, such as
Torii Hunter
,
Carl Crawford
and
CC Sabathia
, well enough. [
New York Daily News
]
Rockies STARTER FALLS -
- For the first time this season, a Rockies starter picked up a loss in the game. Jason Hamel was the first Rockies starter to earn an L, falling 8-3 to the
Cubs
and ending the Rockies' seven-game winning streak. [
Associated Press
]

AND THERE'S THAT
--The other day
White Sox
manager Ozzie Guillen said he has the league's best bullpen, despite his relievers blowing six saves and converting just one. On Saturday, he said he knows he has a good defensive team, despite its 15 errors this season, 13 in the last 10 games. [
Chicago Tribune
]
SPEAKING OF
-- The A's lead the majors with 17 errors, including one more on Saturday. First baseman Daric Barton -- widely viewed as one of the best defensive first basemen in the game -- is tied for the team-lead with three errors. Third baseman
Kevin Kouzmanoff
has three, as well. [
MLB.com
]
EARNING HIS KEEP
-- Could this be the year
Alfonso Soriano
lives up to his promise and salary? Soriano leads the Cubs with five home runs and 12 RBI. [
Chicago Tribune
]
NO LEFTY
-- The Dodgers don't have a left-handed reliever in their bullpen after
Hong-Chih Kuo
was place don the disabled list and replaced on the roster by right-hander
Ramon Troncoso
. [
Los Angeles Times
]
ROYAL PEN
-- One of the reasons the
Royals
are leading in the American League Central is their bullpen, well, almost all of their bullpen. In a reversal of expectations, only closer
Joakim Soria
, one of the best closers in baseball the last couple of years, has struggled. Manager Ned Yost said his closer is just "human" and should be fine. Still, the likes of
Tim Collins
,
Jeremy Jeffress
and
Aaron Crow
have impressed. [
Kansas City Star
]
NEW PITCH
--
Giants
closer
Brian Wilson
is playing coy about a new pitch in his arsenal. Wilson, who will talk about most subjects, isn't discussing a new pitch he's throwing to right-handed batters. It may be a two-seam fastball, a cutter or even a screwball. [
San Jose Mercury News
]
ATTENDANCE WOES
-- This month six teams have set records for their lowest attendance since their current park opened -- the Braves,
Indians
,
Mariners
,
Cardinals
,
Yankees
and
Twins
. Overall attendance is down just two percent this year, which is less than I expected. [
USA Today
]
HOW LOW CAN IT GO?
-- Seattle is being hit particularly hard at the turnstiles. [
Seattle Times
]
UBIQUITOUS OBLUQUE
-- I missed this earlier this week, but heard Tim McCarver bring it up during yesterday's Mets-Braves games --
Michael S. Schmidt of the New York Times wrote a great article
about the oblique injury, noting 14 players had gone on the DL this year with an oblique injury. Also, before MRI technology improved to its current point, the injury had been called rib cage or abdominal injuries, the diagnosis is just better nowadays.
BIG DRAFT
-- What if you had to pick from
Troy Tulowitzki
,
Ryan Zimmerman
,
Ryan Braun
,
Justin Upton
,
Ricky Romero
,
Andrew McCutchen
,
Jay Bruce
,
Mike Pelfrey
, Wade Townsend,
Chris Volstad
,
John Mayberry
Jr.,
Jacoby Ellsbury
,
Colby Rasmus
or
Clay Buchholz
? The 2005 draft offered those choices. [
Milwaukee Journal-Sentinel
]
WRIGLEY GRIDIRON
-- The Cubs and Northwestern want to continue playing football games at Wrigley Field, despite the challenges they faced this season. In the end, money wins. [
Chicago Tribune
]
TUCSON HOME
--
Padres
owner Jeff Moorad said Tucson will be the Triple-A home for the Padres for at least another year and could be an option if the team isn't able to get funding for a park in Escondido, Calif. [
Arizona Daily Star
]
A DIFFERENT MANNY
-- Manny Ramirez changed when he went to Boston. [
Akron Beacon-Journal
]
HOT DOGGIN'
-- A look at the best and craziest hot dogs at ballparks this season. I'm thinking about getting that Meat Lovers Dog at Great American Ball Park later today. I'll take pictures. In the name of "journalism" of course. I'm also curious about the Bahn Mi Dog at
Nationals
Stadium and [
SeriousEats.com
]
For more baseball news, rumors and analysis, follow @cbssportsmlb on Twitter or subscribe to the RSS feed.