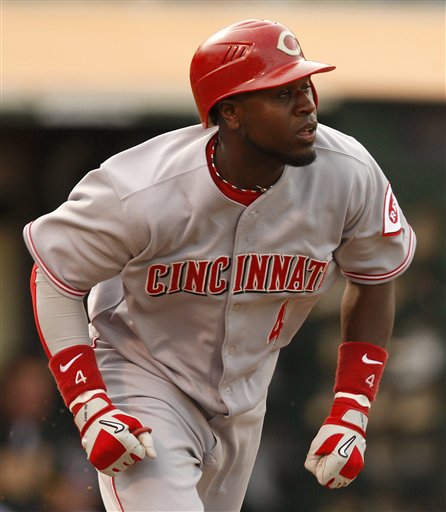 CINCINNATI --
Reds
second baseman
Brandon Phillips
is already thinking about spending time with his family when the All-Stars gather in Anaheim later this month.
It's not that he thinks he doesn't deserve to be an All-Star, he's thought he's deserved it the last couple of years and hasn't gotten the call, so he's not expecting it on Sunday, when the teams are announced.
"I feel like I should have been an All-Star years ago, so I'm not looking forward to it. I don't really care," Phillips said. "I'd like to have my four days off and be in Georgia and go do some things with my sister. That's it."
With
Chase Utley
on the disabled list, Phillips, 29, certainly deserves a spot on the squad, alongside Atlanta's
Martin Prado
. Still, with
Dan Uggla
also fighting for a spot, it wouldn't be a shock if Phillips were left off.
With a 30/30 season under his belt, Phillips is actually enjoying his best season in the big leagues. Phillips is hitting .313/.371/.481 with nine home runs, 25 RBI and 10 stolen bases.
He's also finally found his spot in the lineup. He'd been used as a cleanup hitter the last couple of years, a role he was miscast in, but still managed to rack up at least 75 RBI in each of the four seasons and 94 or more in two of the last three.
That's where he started this season, as well, but Dusty Baker moved him up in the order in May and let
Scott Rolen
bat cleanup.
"He's fit in in every spot we've put him in," Baker said. "He fit in at second, he did well in the cleanup spot, even though he was much-maligned, he still had 97 RBI. Now he's taken to this leadoff spot, he's taking pitches, he's a smart player. He's not hitting .313 because he can't play."
Still, Phillips said he's changed his approach dramatically since he's been moved up in the lineup, cutting down his swing and laying off pitches outside the strike zone.
"I'm not the same hitter I was when i hit fourth, the way I hit right now, I can't hit fourth doing it," Phillips said. "Hitting fourth, it's all about RBI, I proved to everybody I can hit fourth. I didn't hit for a high average, but I had the power numbers and I had the RBIs. I had 90-plus RBIs every year, but that's not me. I'm the type of guy who has gotten the team going. I'm trying to show everyone that I can do many things."
Too often, perhaps, he was trying to show others who he was instead of listening to himself.
"He hits the ball to the opposite field very well, I don't want to put words into his mouth, but I think with a man on first base he feels like he can hit that hole instead of swinging for a double or a home run," Rolen said. "For me, I'm not going to hit that hole, I'm not going to shoot a ball into the hole or bunt. I'm going to try to hit the ball in the middle of the field and hit the gaps. If I hit second, that's what I try to do. He's got a nice compact, right-field swing, but he can also hit the ball out of the ballpark. He sprays singles around and that's healthy."
Rolen has been something of a mentor to Phillips. It's not overt or like Rolen has put his arm around Phillips' shoulders and telling him the secrets of the game. That's not Rolen's style, but Phillips has been sure to keep an eye on the veteran and listen to everything he says.
"Scott Rolen told me, 'Brandon you don't know what type of player you are until you start winning.' I'm starting to see what he meant by that," Phillips said. "Scotty said he's seen so much potential in me and I have yet to see it. I'm starting to see it now. Coming from Scott Rolen, someone who has been at it a long time, to get a comment like that… I'm just going to run with it and do what I'm do."
What he's been able to do so far is spark the Reds offense at the top of the lineup. He has a career-high .371 on-base percentage. Last season he got on base at a .329 clip and has just a .318 career OBP.
"I like hitting leadoff, I jut have to change my role. Ever since they've moved me to first or second, my job is to get on base," Phillips said. "I'm not trying to hit for power or do what I was doing when I was hitting fourth. Right now, my main objective is to get on base for
Joey Votto
, Rolen and (Jonny) Gomes."
It's a sound strategy -- Phillips leads the National League with 60 runs, in part because he's on base for Votto, Rolen and Gomes, all three in the top 11 in RBI in the National League.
Phillips has just seven games in the leadoff spot, but the numbers aren't that much different than what he's been doing over the last month. As a leadoff guy, he's hitting .417/.447/.556 and in the last 30 games, .395/.424/.543, including a 2-for-5 performance against
Roy Halladay
in Wednesday's Reds victory.
The Reds have been searching for a leadoff man for the last couple of years, using the likes of
Jerry Hairston
Jr., Ryan Freel,
Drew Stubbs
, Cabrera, Willy Taveras and
Corey Patterson
. In the end, maybe the player they were searching for was right there under their nose, even if he wasn't ready for it. But, now, Phillips says, it's his time.
"I've got to be the Jose Reyes,
Jimmy Rollins
for this team. I'm just trying to get things started," Phillips said. "It's fun. Winning is really just turned me into a different player, it's made me stay on top of my game and made me stay focused."
-- C. Trent Rosecrans

For more baseball news, rumors and analysis, follow @cbssportsmlb on Twitter.