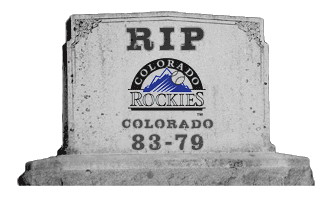 As the sports world waits for the crowning of a champion, 22 other teams are busy preparing for spring training. What went wrong for these teams, and what does 2011 hold? MLB Facts and Rumors here at CBS Sports will be answering those questions through all of October. Today: The Colorado Rockies.
For a while there, it looked like the Rockies were going to do it again.
A 15-12 August, followed by a 10-game winning streak in early September, got the Rockies in position to pull off another of their late-season runs toward the playoffs. They were just a game back in the National League West on September 18, and
Troy Tulowitzki
was playing like Superman.
But alas, it was not to be. In fact, they finished in exactly the opposite fans hoped, dropping an amazing 13 of 14 to finish the season in third place, nine games out.
WHAT WENT WRONG
The Rockies got some amazing performances from their star players, but didn't get enough help beyond those guys.
Second base was a disaster, as
Clint Barmes
batted .235.
Todd Helton
struggled with a bum back and saw his average drop 69 points. Outfielder
Brad Hawpe
, an All-Star a year earlier, was so bad the team released him in August. The guy who finished 2009 as the closer,
Franklin Morales
, got demoted.
Chris Iannetta
signed a three-year contract and completely forgot how to hit. Beyond the stellar
Ubaldo Jimenez
, none of the starters managed to finish more than a game over .500.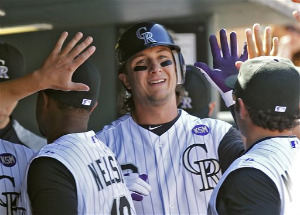 And then there were the injuries, of which the Rockies had more than their share.
Aaron Cook
had his leg broken by a line drive.
Huston Street
started the season hurt and his replacement, Manny Corpas, ended up with Tommy John surgery. Tulowitzki broke his wrist. Four of the five starting pitchers went on the disabled list.
The other major factor was Colorado's miserable performance on the road. A year after notching a winning road record, they went just 31-50.
WHAT WENT RIGHT
Three things went very right: Tulowitzki, Jimenez and
Carlos Gonzalez
.
Jimenez provided the highlight of the year April 17 when he pitched the franchise's first no-hitter (after 18 years) in Atlanta. Jimenez was untouchable in the first half of the season, going into the All-Star break 15-1 with a 2.20 ERA. Reality caught up to him in the second half, when he went 4-7, but he still finished as a 19-game winner.
Tulowitzki had one of the most spectacular months anyone has ever put together, with 15 homers and 40 RBI in the season's final 30 games. The Rockies only had six other players with as many as 40 RBI FOR THE SEASON, let alone in a month. Tulowitzki overcame the wrist injury to finish with a .315 average and a .919 OPS.
Gonzalez arrived in a big way in his first full season, putting together an MVP-worthy campaign. He won the batting title, had 117 RBI and finished with a .974 OPS, leading the league in total bases. On July 31, he hit a walkoff homer to complete a cycle. He was just fun to watch all season.
HELP ON THE WAY
Chris Nelson
's time may have arrived after the problems the Rockies had at second base. Nelson batted .280 in 17 major-league games and .313 the rest of the season at Triple-A.
EXPECTATIONS FOR 2011

The Rockies have a nice core to work with, and the NL West showed itself to be up for grabs this season. A little better luck with injuries, another bat and better play on the road, and there's no reason they shouldn't contend next year.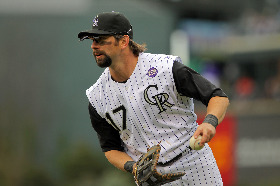 SUGGESTIONS FOR 2011
The Rockies need to get deeper. They have some weapons, but this year showed they need a better supporting cast.
Word is they're looking for another impact bat and interested in
Victor Martinez
. If Martinez is open to converting eventually to be a full-time first baseman, it would be a great fit. They could let
Miguel Olivo
go, hope Martinez can mentor Iannetta, and prepare for life after Helton.
Seth Smith
is probably no longer in the plans as an everyday outfielder, and there are some options out there.
The Rockies also have to figure out the rotation, as they're probably going to lose
Jorge De La Rosa
and have an option on
Jeff Francis
that's probably too rich for the Rockies' blood.
2011 PREDICTION
The Rockies could actually be headed for a step back, simply because Tulowitzki, Gonzalez and Jimenez are statistically unlikely to repeat what they did this season. If the supporting players don't step up, it could be another third-place finish.
Check out the rest of the
R.I.P. reports here.
-- David Andriesen
For more baseball news, rumors and analysis, follow @cbssportsmlb on Twitter or subscribe to the RSS feed .