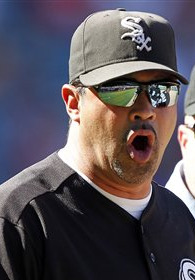 Ozzie Guillen is staying in town, and if general manager Kenny Williams has his way, Guillen will be in Chicago for a long time to come.
"I asked him directly: Did he want to be here? Did he want to be the manager of the Chicago
White Sox
?" Kenny Williams
told Scott Merkin of MLB.com
. He said, 'Absolutely. That's all I've ever wanted. He said he never asked for an extension. The timing of something wasn't commensurate with if he were to go down that road."
The fate of Guillen had been speculated lately in connection with the
Cubs
and
Marlins
jobs, openly saying he wasn't sure what his future held. Guillen is entering the final year of his guaranteed deal, with a 2012 club option hinging in the balance. However, Guillen can guarantee that 2012 option himself provided the White Sox win a division title in 2011.
Guillen then met with White Sox chairman Jerry Reinsdorf and Williams separately, satisfied with the content of the talks to move on from speculating on his future.
"At least it's out of my mind, what I need to know, what I need to hear," said Guillen. "It's out there, and now we move on and wait 'till the end of the season to start talking about the club and move on."
Guillen and Williams were close in the beginning of the two's GM-manager relationship, but it turned contentious lately. Guillen said he believes his relationship with Williams is in the process of being mended, and said the icy relationship was never a problem when it came to baseball. Williams, for his part, was clear that he wanted Guillen in town.
"He did want to know what his status was, and I told him directly," he said. "I hope I never have another manager, at least while I'm sitting in this chair. I hope I never have another manager of the Chicago White Sox other than him."
To that effect, Williams will deny any team the opportunity to speak with Guillen for a manager's job, ending all speculation completely.
-- Evan Brunell
For more baseball news, rumors and analysis, follow @cbssportsmlb on Twitter or subscribe to the RSS feed .