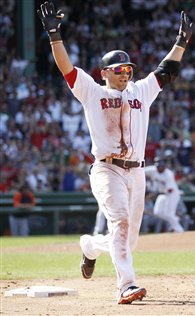 Marco Scutaro
is tied with
Adrian Beltre
for games played for the
Red Sox
on the season with 119 appearances in 123 games. That certainly seems like Scutaro is as healthy as a horse, but that couldn't be further from the truth.
Scutaro has had to deal with a pinched nerve in his neck most of the season, which has caused his left arm to experience weakness. He has received three cortisone shots on the year but hasn't seen that affect his play with a .273/.335/.375 line mostly as Boston's leadoff hitter.
How do you explain Scoot's .222/.264/.284 mark in his last 19 games, then?
Perhaps a problem with the back of his right shoulder, then. Scutaro has been battling discomfort in that area for roughly the last two weeks, as WEEI
reports
.
"I don't know how it started," Scutaro said. "But I have hard time reaching back on throws."
Scutaro noted that the problem largely flares up when he has to make a long throw or the angle of his arm to shoot the ball to first on plays requiring he come across the second-base bag. To compensate, Scutaro has altered his throwing motion.
There was no mention of how it hampered Scutaro's ability to hit, but you have to think that any type of discomfort in the right shoulder, especially paired with effects of the pinched nerve on the left side of the body, will create problems at the plate.
The Red Sox have been the most banged-up team in the bigs this season, with 19 bodies hitting the disabled list, some multiple times. But that doesn't do justice to just how banged up the BoSox have been. After all, the team leader in games played in Scutaro has been hurt all season. It makes Boston's 69-54 record all the more impressive, even as they slowly side out of the postseason race.
-- Evan Brunell
For more baseball news, rumors and analysis, follow @cbssportsmlb on Twitter.