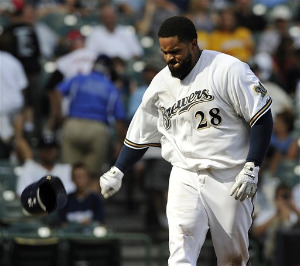 Thursday was a big day in trades, with
Roy Oswalt
,
Jorge Cantu
and
Miguel Tejada
, among others, on the move.
Monitoring the chatter in the baseball world, however, gives the indication that there might not be much more dealing to come.
"There's nothing really going on," general manager Doug Melvin told the
Milwaukee Journal Sentinel
about the
Brewers
' outlook. "I don't anticipate anything happening [before the Saturday deadline]. Things can change but that's the way it looks now. I don't have to trade players. I have to make sure anything we do makes absolute sense to do anything."
That's one of the main things driving -- or halting -- this trade season. Most of the teams with the attractive pieces don't really need to move them. There aren't the usual teams trying to unload salary ballast at all costs as they sink. The Brewers could trade
Prince Fielder
, but they don't have to. Ditto the
Nationals
with
Adam Dunn
. The Jays could move
Jose Bautista
, but he's also under team control and has Toronto fans buzzing.
Many of the big names --
Cliff Lee
,
Dan Haren
, Oswalt -- are now off the board.
David DeJesus
and
Ben Sheets
were knocked off by injuries.
The slate of potential buyers has gone down in the past two weeks. The
Angels
,
Mets
,
Marlins
and
Rockies
are taking a cold, hard look at the standings and realizing it doesn't make sense to mortgage the future on what's becoming an increasingly long shot. The
Red Sox
and
Dodgers
are potentially more aggressive but kind of in the same boat.
The days before the deadline are always filled with GMs expressing outrage at the hefty price tags being put on available players, hoping to force those prices down, but this year it really does seem like teams are taking a harder line because they have less pressure to sell. And teams have so much money invested in scouting and bonus money that they view prospects as high-value commodities rather than pawns. They are afraid to make lousy deals with young players.
There also is a trend toward making deals after the non-waiver deadline -- there's still a month left to trade after Saturday, just with different rules.
"Most of the guys available on July 31 are going to be available in August," a National League GM told the
New York Post.
That's not to say many of the names being thrown around this week won't be in different uniforms in the next 48 hours. Dunn probably will be traded, as will
Ted Lilly
, and the
Blue Jays
would be crazy not to trade Bautista when he's at peak value. But even more than most years, most of the talk will likely be for naught when it all shakes out.
-- David Andriesen


For more baseball news, rumors and analysis, follow @cbssportsmlb on Twitter.