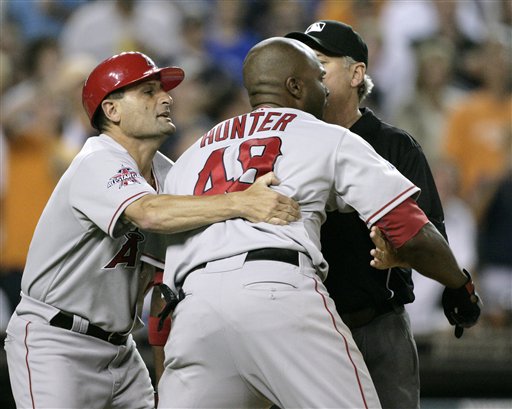 Torii Hunter
's bad week has gotten worse.
First he's moved from center field, then his baserunning gaffe Wednesday night may have cost the
Angels
a game. Friday night was the worst, though, as Hunter made contact with umpire home plate umpire Ron Kulpa.
With the Angels leading 4-2 in the eighth inning, Hunter was called out on three consecutive called strikes by Kulpa -- and then hit Kulpa with the brim of his helmet and he was promptly tossed. Angels manager Mike Scioscia was ejected as well. According to PitchFX on MLB.com, all three pitches were strikes, although all three were close.
Although Hunter is known in baseball circles as one of the best of the good guys, but anytime a player makes contact with an umpire, he can expect a suspension and fine -- and Hunter's no exception.
Hunter finished the game 1 for 3 with a two-run homer in the first innings and the Angels won 4-2.
UPDATE:
Hunter denied his move from center field to right field had anything to do with his popping off, and didn't realize he made contact with Kulpa.
From the Orange County Register
:
"Just crazy. I'm a competitor. You don't want to act like that," Hunter said. "But understand – this is my passion. I'm a very competitive guy and I felt like it was taken away from me, the chance to compete.

"For me to get upset, you know some things were said. I'm sorry. But at the same time, I had to do it."

Hunter indicated there was a "buildup all day" of comments from Kulpa that led to the ejection.

"Obviously, Torii didn't like 'Strike One' and we had a talk about 'Strike One' and then he didn't like 'Strike Three' and we had a conversation about 'Strike Three' and he said some things that crossed the line and he got ejected," Kulpa said. "Then after that he 'beaked' me with the brim of his helmet. ... right above my left eye."

Replays appeared to confirm there was contact between Hunter's helmet and Kulpa's face. But that was news to him, said Hunter who admitted Kulpa's reaction to the inadvertent contact set him off further.

"I don't remember bumping him. If I did, it definitely wasn't intentional," Hunter said. "Then he made it very dramatic. That's what got me really upset. I felt like he was being a drama queen."
-- C. Trent Rosecrans

For more baseball news, rumors and analysis, follow @cbssportsmlb on Twitter.