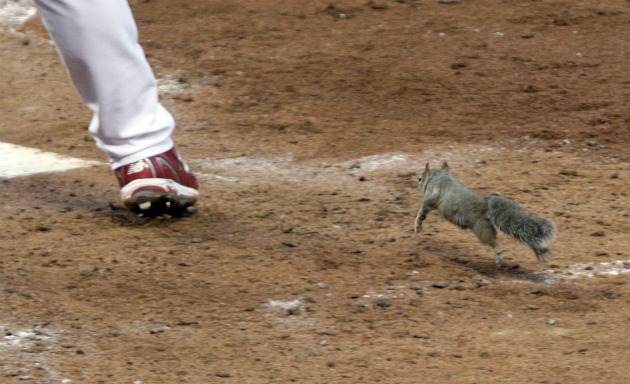 By C. Trent Rosecrans
This isn't the NBA, so there's unlikely to be any guns in the Phillies clubhouse -- and that's a good thing for the Busch Stadium squirrel.
The squirrel ran across home plate as Roy Oswalt threw a pitch in the fifth inning, and Phillies manager Charlie Manuel was asked about it after the game:
The squirrel made his first appearance in Game 3, but that was just running across the field and then down the third-base line. On Wednesday, he made sure to be seen. And like just about everyone else, the squirrel has his own Twitter account -- and 5,146 followers as of 11 p.m. ET on Wednesday. The squirrel isn't concerned about Manuel, or at least he's not according to his Twitter.

More postseason coverage: Postseason schedule | Phillies-Cardinals series | 2011 playoffs
For more baseball news, rumors and analysis, follow @eyeonbaseball on Twitter or subscribe to the RSS feed.