The
Reds
' budget will be "better" than last year's $72 million, general manager Walt Jocketty told CBSSports.com on Wednesday, but because of the team's large number of arbitration-eligible players, he's unsure how much money he has to spend.
"It's hard to predict what those numbers will be," Jocketty said. "We can't commit a lot of dollars right now."
The total budget, Jocketty noted, wouldn't rise dramatically, but will be more than he had for 2010.
He said that was one of the reasons the Reds declined their $4 million option on shortstop
Orlando Cabrera
, although the team has talked to his agent about returning to the Reds at a lower rate.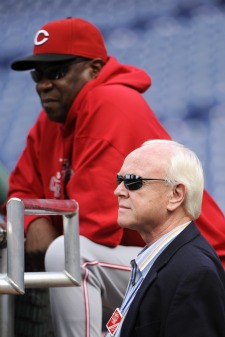 Jocketty said the team has yet to hear word if outfielder
Jay Bruce
will qualify as a Super Two, which would also affect the team's bottom line. Bruce, in his second full season, hit .281/.353/.493 with 25 home runs and established himself as one of the top defensive right fielders in the game (he was second to
Ichiro Suzuki
in the Fielding Bible Awards). Jocketty said he expects to hear sometime this month on Bruce's status as a Super Two, though it is expected he will qualify.
Bruce won't get the biggest bump from the arbitration process, though. Likely National League MVP
Joey Votto
is also eligible for arbitration for the first time. In addition, the Reds have
Johnny Cueto
,
Edinson Volquez
,
Bill Bray
,
Jared Burton
and
Laynce Nix
as arbitration-eligible players.
If the Reds do have some money to spend, Jocketty said he'd like to find a leadoff man.
We'd like to improve our offense," Jocketty said. "With our pitching, we like our rotation, we like our bullpen. One thing we'd like to improve upon is a leadoff hitter, I don't know that if that's possible or not."
Brandon Phillips
and
Drew Stubbs
led off for the majority of the 2010 season.
If the team doesn't bring back Cabrera, Jocketty said he feels comfortable with
Paul Janish
as the team's everyday shortstop. The Reds went into February with the plan of Janish at short last year before signing Cabrera.
Other notes from Jocketty:
• He said the
team had talks with an extension for pitcher
Bronson Arroyo
, but hadn't reached an agreement yet, so the team picked up his option. Jocketty said they'd still like to get a multi-year deal done before 2011.
Arroyo told CBSSports.com earlier today
that they were working on a three-year deal.
• Sorry Louisville, Aroldis
Chapman won't be back in the minors next year.
"He should be ready for the major leagues now," Jocketty said.
Whether he will be a starter or reliever in 2011, only time will tell. Longterm, the Reds believe Chapman will be a starter.
"Right now, when we get to spring training, if he's better suited for the rotation or the bullpen," Jocketty said. "It's very possible he could be back in the bullpen."
The Reds could have a crowded rotation with Arroyo, Cueto, Volquez, Bailey,
Mike Leake
and
Travis Wood
.
• Jocketty said he
talked to the agent for free agent utility man Migeul Cairo on Wednesday about bringing Cairo back to Cincinnati.
-- C. Trent Rosecrans
For more baseball news, rumors and analysis, follow @cbssportsmlb on Twitter or subscribe to the RSS feed.