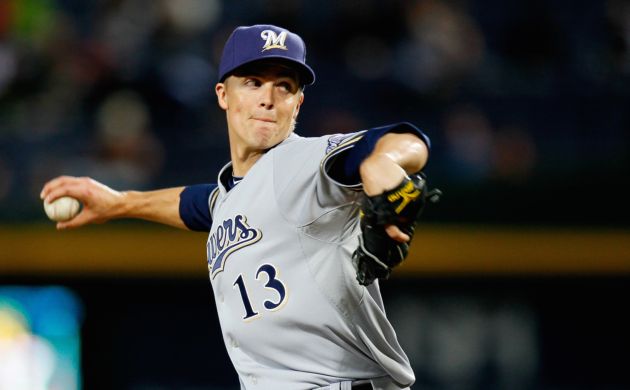 By Evan Brunell
On Wednesday, CBSSports.com will reveal its picks for hitter and pitcher of the month for May, much
as was done for April's top performers
.
But there's also a flip side: the worst performers of May. In other words, which players did the most to harm their value during the second month of the season?
Here are the three worst hitting and pitching performances to date among those who received near-regular playing time:
HITTERSSam Fuld, Rays
-- The Legend of Sam Fuld had an unsavory chapter written into it as the left fielder crashed back to earth after an unsustainable start to the season. No matter how intoxicating Fuld's offensive and defensive exploits were for the Rays, he was still a 29-year-old who struggled for years to keep a big-league spot on the
Cubs
. His batting line so far in May is a putrid .159/.178/.261, but he's still holding onto his starting job. Desmond Jennings is faring well down in the minors, so before June is out, Fuld may become a bench player.
Ichiro Suzuki, Mariners
-- The Japanese phenom has led baseball in hits five straight seasons and seven of 11. Unfortunately, his streak might be broken this year as he's scuffled in May, hitting just .204/.262/.325 and collecting 20 hits in 98 trips to the plate. Suzuki has never had a month with less than 25 hits, but unless he goes 6 for 6 Monday against the
Orioles
, that will change. Suzuki previously collected a personal-worst 25 hits in September of 2002, matched in April 2007. In addition, May has historically been one of his hottest months, and he has never gotten fewer than 32 hits in the month of May, regularly registering 40-plus. That has zero chance of happening this season -- unless the team plays about 27 innings of baseball before June 1.
Placido Polanco, Phillies
-- With the Phillies' stagnant offense missing
Chase Utley
until recently, Polanco has been batting second or third much of the year. In such a crucial part of the lineup, he tossed up a brutal line in May: .228/.268/.277. This, after a scorching April saw him finish at .398/.447/.524. Suzuki and Polanco need to break out of their slumps, as their entire value on offense is predicated on batting average. Suzuki is 37 and Polanco 35, so they're approaching the ages where they could completely lose it at the plate. That's not going to happen just yet, but it's something to keep in mind. Polanco was signed before the 2010 season and has one more year left on his deal.
---
PITCHERS
Zack Greinke, Brewers
-- Here's a stat from the 2009 AL Cy Young Award winner that doesn't make much sense. Despite 39 strikeouts and just three walks in 28 innings, Greinke somehow has a 5.79 ERA, coughing up 18 earned runs. One problem is that five of his 29 hits allowed have gone over the fence, a highly unsustainable mark that can't continue. He's also had balls fall into play 35 percent of the time, which is a big number compared to the league average of 29 to 31 percent. In fact, his career mark in this category is 31, so that should drop as well. All in all, there's nothing to be worried about thanks to his fantastic K/BB rate, which contributes to a sterling
1.58 xFIP
. Don't be surprised if Greinke is the pitcher of the month for June.
Brett Myers, Astros
-- Last season, the one-time Phillie turned heads by hurling a career high 223 2/3 innings for the Astros, just the second time he broke the 200-inning barrier (2005) and only the fourth time he went over 190 innings. In his career year, Myers posted a 3.14 ERA, also a career best and just the third mark of his career under 4.00 (2005-06). This year? Well, there's a reason it was so rare for him to get an ERA under 4.00 and innings pitched over 190. He's got a 5.11 ERA this year, and while he's been unlucky, it hasn't been by a wide margin. His walk and strikeout numbers have suffered, and he's simply not pitching as well.
Aroldis Chapman, Reds
-- There were plenty of relievers that had awful Mays -- Ryan Perry of the
Tigers
springs to mind -- but Aroldis Chapman takes the cake. The lefty appeared in three games but could only get one measly out. He allowed just one hit but delivered nine walks, coughing up eight earned runs in total. His 100-plus mph fastball was useless to him, as he didn't strike anyone out. Chapman doesn't appear hurt, but he was placed on the DL with what is effectively a phantom injury. He's been making inroads on his rehab assignment in the minors, so he should be back before long. The question remains, though: Why did Chapman completely and utterly lose it? And will it happen again?
For more baseball news, rumors and analysis, follow @cbssportsmlb on Twitter or subscribe to the RSS feed.