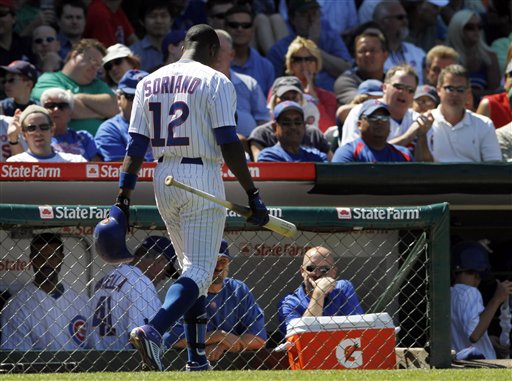 Practice makes perfect? Maybe not. Maybe practice makes
Cubs
. And that's not good.
Chicago manager Lou Piniella
told the Chicago Tribune 's Dave van Dyck
that "sometimes less is more" before he cancelled batting practice and closed the Cubs' outfield hitting area before Saturday's game with the
Reds
.
The Cubs have scored three or fewer runs in 11 of their last 13 games, including five shutouts.
It doesn't help that the team is facing one of the National League's hottest pitchers,
Johnny Cueto
on Saturday, either. Cueto is 8-2 with a 3.74 ERA and entered the game having given up just 11 hits and one earned run in his last three starts, good for a 1-1 record and a 0.71 ERA.
UPDATE:
Well, no real shocker here, but it looks like Piniella knows more about his team -- and baseball -- than I do. The Cubs have hits in each of the first five innings against Cueto, including leadoff hits in four of those innings. As of the bottom of the fifth, though, that hasn't led to any runs. The Cubs now have seven hits, including a leadoff double by
Marlon Byrd
in the fifth, while
Randy Wells
has held the NL's leading offense hitless through five.
UPDATE 2:
The Cubs banged out 10 hits on Saturday in their 3-1 victory over the Reds, so Piniella's plan worked, although not perfectly. Sure, it's picking nits when you win, but Chicago left 17 runners on base. The National League record for most men left on base in a nine-inning game is 18, done most recently by Atlanta on June 23, 1986. The
Yankees
left 20 on base on September 21, 1956.
-- C. Trent Rosecrans

For more baseball news, rumors and analysis, follow @cbssportsmlb on Twitter.