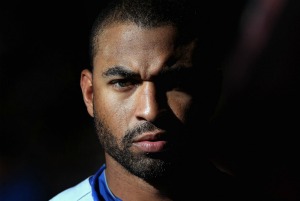 By C. Trent Rosecrans
The Dodgers may have the best player in the National League, and yet he's been overshadowed by the team's ownership story and even his own teammate, Andre Ethier who has a long hitting streak and a mysterious injury that have garnered headlines. Heck, the biggest story of the year involving Los Angeles' Matt Kemp may be better known for his breakup with his girlfriend last offseason than his breakout on the field this season.
Yep, Matt Kemp may be the best player in the National League, and Dodgerland is still talking about the McCourts, Ethier's possibly injury and the return of their broadcast team. Meanwhile, Matt Kemp leads all big leaguers in Wins Above Replacement players at 8.0 (according to Baseball-Reference.com -- FanGraphs.com has him sixth overall and second in the National League at 6.6).
If advanced metrics aren't your thing, he's hitting .321/.396/.573 with 31 home runs and 101 RBI -- numbers that put him in the running for the triple crown. (He's also tied for second in the NL in stolen bases with 35, 12 behind the Braves' Michael Bourn.)
Last year it was Albert Pujols, Joey Votto and Carlos Gonzalez challenging for the triple crown, this year Kemp has the best shot. Here's a look at his numbers, and chances.
Batting average: Kemp's currently hitting .321, good for fourth in the National League behind Jose Reyes (.335), Ryan Braun (.331) and Votto (.325) -- with David Murphy (.320) hot on his heels. A career .292 hitter, this is his best batting average since 2007, when he hit .342 in 98 games (and 311 plate appearances) as a 22-year-old. This is the best year of the 26-year-old's career, so it's not like past performance will predict production, but he has tailed off in the last month of the season in his career. Kemp's hit .264/.310/.426 in September and October in his career, while hitting .297/.354/.502 in the other months (although those numbers do include this season's production).
Home runs: Kemp's tied for the National League lead with Mike Stanton and Pujols with 31 homers, with Lance Berkman and Dan Uggla just one homer behind, each with 30. Ryan Howard and Prince Fielder both have 29 homers, while Troy Tulowitzki and Jay Bruce each have 28 homers -- meaning the race is wide open.
The Dodgers have 10 home games remaining on their schedule and 17 road games, which would appear to help Kemp who has 16 of his 31 homers on the road this season in fewer games, hitting a homer every 17.3 plate appearances on the road and one every 19.4 plate appearances at Dodger Stadium. However, the stadiums left on the Dodgers' tour of the National League haven't been kind to Kemp -- he has just three homers in the parks left on the team's travel schedule, with two of those coming at Arizona's Chase Field. He hasn't homered in either San Francisco's AT&T Park or San Diego's Petco Park, despite playing six games in both stadiums this season. Kemp has just two homers in San Francisco in his career (166 plate appearances) and three in San Diego (139 plate appearances). Overall, he's managed just one homer every 40.6 plate appearances in the six parks (Pittsburgh, Atlanta, Washington, San Francisco, San Diego and Arizona) the Dodgers will play in during September and 15 total, seven of those at Chase Field.
RBI: Kemp enters Wednesday's game with 101 RBI, already tying his career best (2009), and just one behind leaders Howard and Fielder. Tulowitzki is the only other player with more than 90 RBI, with 94 on the season. The RBI stat is dependent on what other players do, and after struggling in July, the Dodgers had one of their best offensive months of the season in August, scoring 127 runs in the month, the most of any month and getting on base at a .322 rate, only just below its .339 OBP in June. That said, that doesn't mean much, since the Dodgers followed their productive June with their worst month of the season in July. Predicting RBI is the ultimate folly, because not only does Kemp have to deliver, so do his teammates. The same thing can be said about the others on the list, as well.
It'd be silly to predict a triple crown or even guess at a single crown for Kemp with a month to go in the season, but it's certainly worth keeping an eye on -- and gives Dodger fans something to cheer about, something that's not been easy to do in 2011.
For more baseball news, rumors and analysis, follow @eyeonbaseball on Twitter or subscribe to the RSS feed.