By C. Trent Rosecrans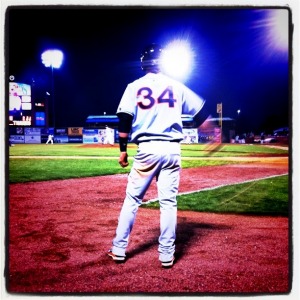 What did you do with your days off?
Me, I did what many of you probably did, went to a baseball game. I drove about an hour to go see Bryce Harper play. I was planning on going Monday, but the game was rained out and then I had an off day on Thursday, the last of a four-game series against the Lexington Legends.
On Wednesday, I got a text from a friend that said he just saw Harper's first professional home run. I did not. I did see a double and nearly saw his first fight.
After walking in the third inning, Harper was picked off third and with no chance to score or get out of it, he decided his best chance was to bowl over the catcher, Chris Wallace.
Wallace barely budged, and then got up in Harper's face. Harper, though, just walked away as soon as the umpire got between them. Both benches were warned and nothing further happened.
Harper's going to be a marked man every place he goes this year, that's part of the minor leagues. In the minor leagues you have someone very close yelling very loudly while very drunk. Harper didn't react, and that's for the best. He'll be the target for fans and players. Every pitcher will be giving him their best, every catcher will welcome a play at the plate, and everything Harper does will be magnified.
On Thursday, Harper did the smart thing and walked away. That's not to say he didn't get yelled at by drunk frat boys in the stands, but he was smart. He gains nothing by getting in a fight there, while Wallace could make his name by taking on the millionaire and most famous player in the minor leagues.
I wanted to talk to Harper about that and what it's liked being a marked man -- something he's definitely going to because of the money, his fame and the perceived arrogance (and it'd be fair to say I heard that word used several times on Thursday from folks around the ballpark). But despite the Nationals asking visiting teams to set up a press conference-type table with backdrop for Harper to deal with every night, he declined on Thursday. I'm not upset, I've been stood up by better, but I wish he would have told me earlier. Instead, I waited an hour to be blown off.
That said, I've got to give him some serious credit, as I waited for his whim, he signed autographs and posed for pictures for each of the nearly 50 people waiting by the team's bus. It's certainly going to be an interesting year for a kid who just turned 18 -- I can say I saw him when… Just like I knew I could when I went to see Gregg Jefferies back in the day when he was the top prospect in baseball.
Also, Evan posted this the other day, but here's some video I took (and the picture is from my hipster iPhone app, Instagram -- I'm ctrosecrans, if you're into that kind of thing):
Harper made his home debut on Friday, and the Washington Post's Dave Sheinin was there to see him go 0 for 3. He's now hitting .226 and I was there for his first pro double, if not the homer.
ANOTHER DOUBLEHEADER -- The Brewers and Nationals have already been rained out today and will play a doubleheader tomorrow. [MLB.com]
YOUNG TO DL -- Chris Young is headed back to the disabled list. The Mets placed the right-hander on the 15-day DL, retroactive to April 11, with right biceps tendonitis. The Mets called up lefty Pat Misch. Misch has started one game for Triple-A Buffalo. The team needs a starter for Sunday.
CATCHER NEEDED -- Could Bengie Molina be a fit for the Twins with Joe Mauer on the DL? Another possibility would be Ivan Rodriguez. [St. Paul Pioneer Press]
LUDWICK STRUGGLING -- Many people -- myself included -- killed John Mozeliak for trading away Ryan Ludwick last season to get Jake Westbrook. So far, Mozeliak has looked good as Ludwick has looked bad. Ludwick is hitting .194/.296/.325 since joining the Padres. [St. Louis Post-Dispatch]
CHAPMAN OK -- Aroldis Chapman says he's feeling fine. His lack of velocity was just from throwing a couple of days in a row. When I talked to Walt Jocketty on Thursday, he said Chapman should be fine to pitch on Sunday. [Cincinnati Enquirer]
SMALL CROWDS -- There are plenty of good seats available at Houston's Minute Maid Parik. [Houston Chronicle]
NO APOLOGY NEEDED -- Cubs manager Mike Quade said he appreciated Carlos Zambrano's apology, but it wasn't needed. Zambrano left the mound before Quade got there when he went to the mound to take him out of Wednesday's game in Houston. [Chicago Sun-Times]
GROUNDSKEEPER OK -- We all saw the YouTube video of the groundskeeper at Kauffman Stadium get run over last week. Yahoo!'s Jeff Passan caught up with Trevor Hogan, who said he wouldn't recommend getting caught under a rolling tarp, but he's fine.
MASCOT INJURY -- In Japan, Carrrasco, the mascot for the Rakuten Eagles injured his leg during a game and had to be rushed to the hospital where he needed surgery. He could miss the entire season. [Yakyu Baka]
For more baseball news, rumors and analysis, follow @cbssportsmlb on Twitter or subscribe to the RSS feed.