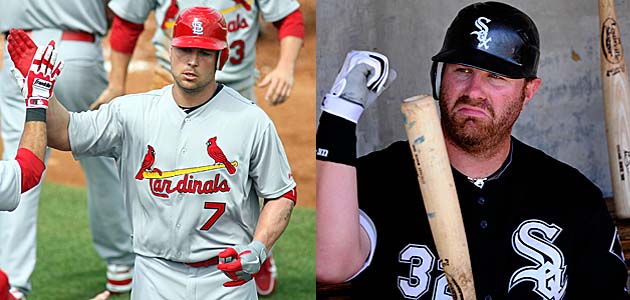 By Matt Snyder
Sluggers
Matt Holliday
and
Adam Dunn
have both undergone appendectomies thus far in the new baseball season. We know this. We also know that the usual length of missed time following such a procedure is around four weeks, and that
Andres Torres
missing just under two weeks last season was a pretty fast return.
Apparently that's not good enough for Holliday and Dunn.
Holliday is set to return to the lineup Sunday, which would mean he'd only have missed seven games. (
MLB.com
) Dunn seems ready to scoff at such a figure, as he is shooting for five days (his procedure was Wednesday). He took some cuts Sunday morning and reportedly felt "OK." (
Chicago Sun Times
)
This is a testament to the toughest of the players and modern medicine. Major props are due to everyone involved.

ZIMMERMAN HURT?
Ryan Zimmerman
appeared to injure his hand Saturday night and is out of the lineup Sunday. More details are sure to follow. (
Washington Post
)
DEMOTION COMING:
Chris Snyder
is going to be joining the
Pirates
soon, which will force
Jason Jaramillo
back to Triple-A, as the team has no plans to carry three catchers or move
Ryan Doumit
out from behind the plate. (
Bucco Blog
)
HELTON'S ACHY BREAKY BACK:
Todd Helton
missed Saturday's game with back pain. We've seen this before, so hopefully it gets cleared up soon. Helton did note his back locked up similarly to something that happened in spring training and it only lasted a "couple of days" then. (
Denver Post
)
THE MENTOR:
Ivan Rodriguez
is helping
Nationals
reliever
Drew Storen
learn the mental side of pitching
"Last year, I was amazed," Storen said. "When I would go out and pitch, I would just let him call it. The way my mind works was so amateur compared to him. He just calls such a polished game. It's just like, 'Wow.' So now I'm starting to get it. Now I'm starting to think on the same lines as him, which shows you how I've learned from him. I pretty much feel like I'm a passenger when he's out there. I don't have to think. He knows what I'm comfortable with, and he knows what the best approach is." (
Washington Post
)
That's saying a lot coming from Storen. He's one of the more cerebral players in the league and graduated from Stanford. Then again, he was only four years old when Rodriguez entered the league. It's nice to see a youngster knowing what he doesn't know and striving to learn.
MANNYLESS TROP:
The
Rays
have cancelled all merchandise sales and giveaways relating to Manny Ramirez, for obvious reasons. This includes wigs of his dreads and a bobblehead giveaway. Nooooooo! (
Tampabay.com
)
AWFUL NEWS:
A Pirates usher was found dead early Saturday morning lying face down in the street and bleeding from an apparent head injury. His car is missing, too, so there appears to be foul play involved. (
Pittsburgh Tribune-Review
)
GOOD NEWS:
Luis Salazar is ready to return to his job as manager of the
Braves
' Class A affiliate (Lynchburg) this coming Friday. He has been sidelined for over a month after taking a line drive to the face and subsequently losing his eye. Of course, his life was in danger for a bit, so returning to the dugout is huge. Good for him. (
AJC.com
)
NO HARD FEELINGS:
Chris Archer was dealt by the
Cubs
to the Rays in the
Matt Garza
trade, but he's not angry with the Cubs for doing so.
"When you get traded it's always a little bittersweet, but a team wants you," Archer said. "One team is willing to get rid of you for a big-name player and then one team wants you. Either way you look at it, I wasn't mad. I was wanted and it was for a big-name player, a No. 1 or No. 2 starter in the big leagues. Why would I be mad? If that's what the package is worth for a No. 1 or No. 2 starter in the big leagues, I'm happy with that." (
Chicago Tribune
)
It doesn't seem like a big deal, but I've seen far too many players act like there's some huge disrespect factor tied to getting traded. Good thing Archer isn't one of those.

For more baseball news, rumors and analysis, follow @cbssportsmlb on Twitter or subscribe to the RSS feed.