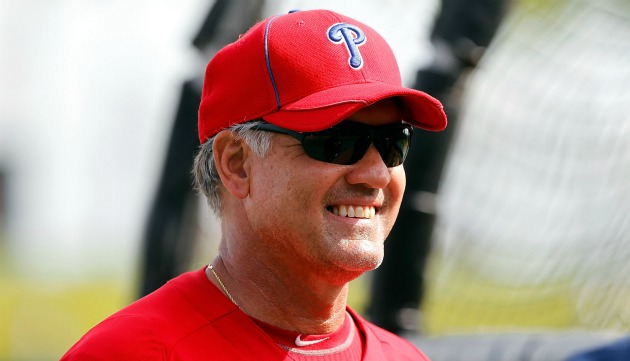 By Evan Brunell
Ryne Sandberg is not interviewing for the
Cubs
' opening at manager, he confirmed to the
Chicago Tribune
.
The forner Cubs star, who left the organization last season after Mike Quade was chosen to lead Chicago, is now hoping he lands somewhere else as manager, if not the rival
Cardinals
.
"I hope the opportunities arise, and that's one of them," he said. "I'm still optimistic and excited about the possibilities."
Sandberg found this out when president Theo Epstein, proactive as always to head off potential stories, reached out immediately to tell the Cubs Hall of Famer he was not a candidate.
"Moments after the press release came out, Theo called me and left me a message stating Mike Quade was not going to be back in 2012," Sandberg said. "And he said they were going to do a managerial search of four to five candidates and that major league coaching experience or managing experience was one of the criteria that they were going to follow, and I would not be a candidate for that job.
"I called him back and told him I'd received the message, appreciated the phone call even though it wasn't owed. But it was appreciated. I wish him all the best and good luck in his new job."
Sandberg didn't seem to be bitter about the situation, and was looking ahead to the Cardinals and perhaps even Boston.
"I'm still hopeful for an opportunity to get to the major leagues somewhere," he said. "I don't know what else I need to do after this season. I'm comfortable with that, and still hopeful for a chance."
Actually, one thing Sandberg could do is become a third-base coach in the majors for a couple of seasons. That would cement his chances to manage. Even Epstein told him as much -- if he had major-league coaching experience, he would be considered. That's a logical next step for Sandberg to take. And why not back with the Cubs? Somewhere, some team should be willing to have Sandberg as a major-league coach, as long as Sandberg is willing.
For more baseball news, rumors and analysis, follow @EyeonBaseball on Twitter or subscribe to the RSS feed.