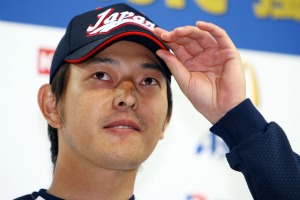 By C. Trent Rosecrans
While we all await official word on who won the Yu Darvish bidding, another Japanese pitcher is getting closer to picking his new team in Major League Baseball. Right-hander Hisashi Iwakuma is expected to make a decision sometime around the new year, Iwakuma's agent, Paul Cobbe told Daily Sports in Japan (via YakyuBaka.com).
The Athletics, Twins, Pirates and Nationals -- and another, unnamed west-coast team, are mentioned as teams with interested in Iwakuma.
Last year the A's won the bidding when the Rakuten Golden Eagles posted Iwakuma. However, the two sides couldn't come to an agreement after the thirty-day negotiating period. The A's reportedly won the bidding with a $19.1 million bid, but couldn't come to an agreement. At the time, it was believed Iwakuma was looking for something around $12 million per year, while the A's were offering no more than $5 million. After returning to Japan for 2011, Iwakuma became an international free agent and will be able to chose his team. He has also hired a new agent.
Iwakuma went 6-7 with a 2.42 ERA in 119 innings in 2011 for the fifth-place (of six teams) Golden Eagles, but had some shoulder problems. He struck out 90 batters and walked 19 in his 17 starts. He is 107-69 with a 3.25 ERA in his career. He won Japan's equivalent of the Cy Young Award and the Pacific League MVP in 2008, when he went 21-4 with a 1.87 ERA.
In the 2009 World Baseball Classic, Iwakuma started the championship game over Darvish, who closed out the game. Iwakuma finished the tournament with a 1.35 ERA -- the lowest of any pitcher who threw more than 15 innings in the tournament -- and was named to the All-Tournament team.
While not the potential ace that Darvish is, Iwakuma could be a good option for a team in search of help in the middle or back of the rotation.
Iwakuma will turn 31 in April.
Below is a video that focuses on his ground ball rate.


Follow all of the Free Agent signings with the CBSSports.com Free Agent Tracker.

For more baseball news, rumors and analysis, follow @eyeonbaseball on Twitter or subscribe to the RSS feed.