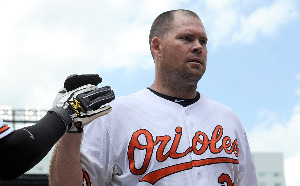 Who knew that the market for versatile infielders could be plentiful?
Jose Lopez
could
be an option
for the
Tigers
,
Wes Helms
has
drawn interest
from the
Yankees
and
Rangers
and other like-minded players are available as well, such as
Jose Bautista
and
Jorge Cantu
.
The player most bandied about at the trade deadline, however, has been
Ty Wigginton
of the
Orioles
. Incredibly versatile, Wiggy has had a strong season at the plate although he sandwiched a cold streak in between his raking. Virtually every team in contention has been linked to Wigginton, and AOL Fanhouse's Jeff Fletcher
specifies
three recent teams: the
Giants
, Rangers and
Angels
.
The Rangers are an unsurprising team, as they are on the
hunt for a right-handed infielder
and Wigginton is a logical fit. The Giants are more curious, as GM Brian Sabean is adamant he does not want to bring in a "rental" player. Wigginton is eligible to be a free agent after the season, but Sabean could be persuaded into Wigginton given he would cost less than players such as
Jayson Werth
.
Speaking of Werth, could the
Phillies
also be a candidate for Wigginton? If the rumors that Werth is
headed out
in favor for starting pitcher
Roy Oswalt
are true, that lineup will suddenly get very left-handed. Wiggy could be a jack-of-all-trades, primarily playing second base until
Chase Utley
returns from injury and then filling in all over. The two sides have
already reportedly discussed
Wigginton.
Back to Fletcher's other named team: the Angels. Los Angeles doesn't have much in the way of high-level prospects to deal and
have already tried
to get
Alberto Callaspo
from the
Royals
. While it's not clear if Baltimore would accept
Sean O'Sullivan
and an additional fringe prospect for Wigginton, you would think that the Angels would at least keep Wigginton in mind.
Another team that could use Wiggy is the Detroit Tigers, who lost
Brandon Inge
for over a month and already had a compromised shortstop conundrum.
And of course, the Yankees, as they are wont to do, have interest in everybody on the market including Wigginton. (Ken Rosenthal of FOX Sports did
say
that the Yankees are focusing in on Helms and the
Indians
'
Jhonny Peralta
, as Wigginton's price is understandably high.)
The
Rockies
have also been linked to Wigginton as they seek to import a better second baseman than
Clint Barmes
.
The market for Wigginton is robust, and it's a near lock that he is traded clear to the deadline. The only question is: where? There are so many fits, it will all depend on which team is willing to give up the most.
-- Evan Brunell


For more baseball news, rumors and analysis, follow @cbssportsmlb on Twitter.